Fox Local Anchor Returns To Air After Calling MSNBC's Rachel Maddow An 'Angry Young Man'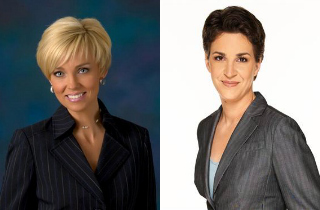 A local Fox anchor returned to the air this week after serving a suspension for disparaging comments she made about MSNBC's Rachel Maddow a month ago.
On October 12, Fox 19 Ohio anchor Tricia Macke wrote on her personal Facebook page that "Rachel Maddow is such an angry young man."

The Facebook post was since removed, but GLAAD captured a screenshot of the comments: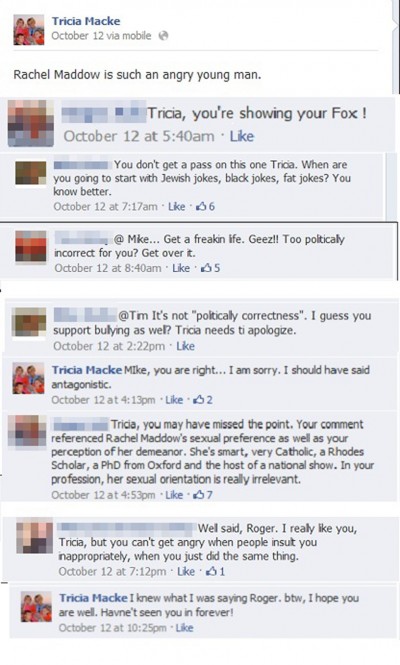 Macke was scolded by several Facebook fans who took issue with her comment mocking Maddow's sexual preference, but she deadpanned in response: "I am sorry. I should have said antagonistic."
"I knew what I was saying," Macke responded to other commenters who called on her to acknowledge the hurtful tone of her comments.
After controversy erupted over the comments, Macke was absent from her regular broadcast on a Sunday night, leading many to speculate that this was related to her comments.
Several days before her absence, however, she and the station expressed apologies. "We also apologize to anyone who may have been offended by her comments," WXIX Station Management said, noting that Macke had posted her own apology note to her Facebook page, which read:
I recently posted comments on my personal Facebook page regarding cable news anchor Rachel Maddow which were insensitive and inappropriate. I apologize to Ms. Maddow and any others who may have been offended by my comments, as they do not reflect my firm beliefs in individual and equal rights, and they certainly do not represent the opinions or position of my employer WXIX-TV.
After two days of on-air absence, Macke returned to her anchor seat Tuesday night.
[h/t Daily News]
— —
>> Follow Andrew Kirell (@AndrewKirell) on Twitter
Have a tip we should know? tips@mediaite.com