Fox News' Brit Hume Slammed On MSNBC For Letting Paul Ryan's Ayn Rand Worship Slide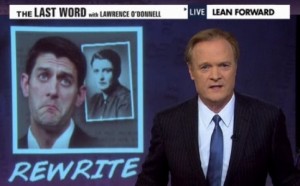 Well, that didn't last long. Barely two hours after receiving praise from an MSNBC analyst for his interrogation of Republican vice presidential candidate Paul Ryan, Fox News anchor Brit Hume was being slammed by The Last Word host Lawrence O'Donnell over a different portion of the same interview. In his "Rewrite" segment, the MSNBC host focused on Ryan's light-speed sprint away from Ayn Rand, whom Ryan has called "the reason I got involved in public service." (That's a really weird thing to say, given that Rand's claim to fame is a philosophy centered around self-interest, which seems incompatible with public service. It's like saying that John Wayne Gacy made you want to go to clown college.)
Hume's interview with Ryan was the fulcrum of a segment in which O'Donnell completely decimates Ryan's new-found antipathy for Rand's philosophy, expressed in what O'Donnell described as "a breathtakingly lazy interview conducted by the homework-averse Brit Hume."
In that interview, Ryan made the ridiculous claim that he only liked Rand for her novels, and only found out about her philosophy "later in life," adding, "It's something I completely disagree with. It's an atheistic philosophy."
On its face, this is absurd, like claiming you thought The Bible was a ripping yarn, but were later shocked, shocked, to learn about all of that religion stuff.
As O'Donnell points out, with characteristic pugnacious glee, Ryan has a long history of praising Ayn Rand and her philosophy within the effective range of various recording devices. That, and the series of tubes on which those recordings are stored, clearly demonstrate that Paul Ryan is not just a liar, but the kind of guy who will abandon closely-held, lifelong principles at the drop of a Mitt.
Later in the segment, as he rolls out the mountain of evidence that Paul Ryan is a sledgehammer-to-the-blocked-feet super-fan of Ayn Rand, O'Donnell takes a few more shots at Brit Hume, telling his audience that Fox News viewers would never see any of Ryan's praise for Rand because "it would involve Brit Hume, or someone working for Brit Hume today, to have done some homework," and that "Brit Hume's job nowadays, after a distinguished career in real journalism elsewhere, is to help Fox News help Paul Ryan become the next Republican vice president of the United States, who gives orders to the president."
It's fair to criticize Hume for not pressing Ryan on this, but it's also fair to note that Hume went after Ryan pretty hard on the budget, and in a big, exclusive first interview with the new running mate, perhaps Brit Hume had other things he wanted to get to. It's also possible that the news culture at Fox News, specifically a keen consciousness of their conservative audience, is such that a devotion to Ayn Rand just doesn't seem like that big a deal.
Here's the clip, from The Last Word:
Follow Tommy Christopher (@TommyXtopher) on Twitter.
Have a tip we should know? tips@mediaite.com