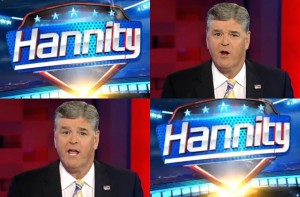 UPDATE –– June 10, 10:37 am EDT:
A Fox News spokesperson sent a statement: "Most of the commercial breaks did not air during the 9pm hour due to a technical problem." The tech issues on Kelly's show and Hannity's appeared to be connected, but everything was fixed before the 10 pm hour ended.
---
Something weird happened at Fox News tonight, because after the entire first segment of Sean Hannity's show aired, when they returned from commercial… they showed the first segment again.
Hannity kicked off his show breaking down Fox's new poll with Heather Nauert, then he brought on Laura Ingraham for analysis, then he went to break.
Trace Gallagher popped in after the commercials for a brief news update, then teased back to Hannity. Instead of going back to Hannity, the screen went black for a bit, before the audio and video for Megyn Kelly's outro came up.
And then the intro to Hannity's show aired and the entire first segment played again.
But towards the end, right after Ingraham said, "If Trump wins…", Fox abruptly cut to commercial. (The commercial they cut to in the video below right after "If Trump wins" creates an, um, amusing juxtaposition.)
Oh, and after things got back to normal, a segment on violence against Trump supporters later on abruptly cut out and a brief bit from America's News HQ jumped in to cover until they could go back to that segment (already in progress).
It's worth noting that before Hannity, Megyn Kelly did an hour-long commercial-free program, which may or may not have anything to do with the tech issues on Hannity's show.
Watch clips of what happened above, via Fox News.
[image via screengrab]
— —
Follow Josh Feldman on Twitter: @feldmaniac
Have a tip we should know? tips@mediaite.com
Josh Feldman - Senior Editor