There have been reports of shots fired in Dallas during a protest tonight and unconfirmed reports that at least one officer has been shot down:
BREAKING UPDATE: Police are reporting shots fired during the protest march in downtown Dallas. We are working to confirm.

— WFAA-TV (@wfaachannel8) July 8, 2016
#breaking Crowd on the run downtown Dallas. Reports of an officer shot at the protest march. pic.twitter.com/zstZnDIRlm

— Doug Dunbar (@cbs11doug) July 8, 2016
Local reporter in Dallas quoting a police officer as saying "Someone has a rifle." Live images showed multiple officers down. Shots fired.

— Rick Folbaum (@RickFolbaum) July 8, 2016
Dallas is one of the cities where #BlackLivesMatter protesters have been marching in tonight in response to two police shootings this week.
Fox News actually ran footage from an affiliate appearing to show an officer on the ground:
And that affiliate is reporting that two officers were shot down:
#BREAKING: An officer on scene confirms at least two Dallas police officers have been shot. pic.twitter.com/rdfNO9mRzS

— FOX 4 NEWS (@FOX4) July 8, 2016
Below is a disturbing screengrab from Fox's coverage of what appears to be officers lying on the ground: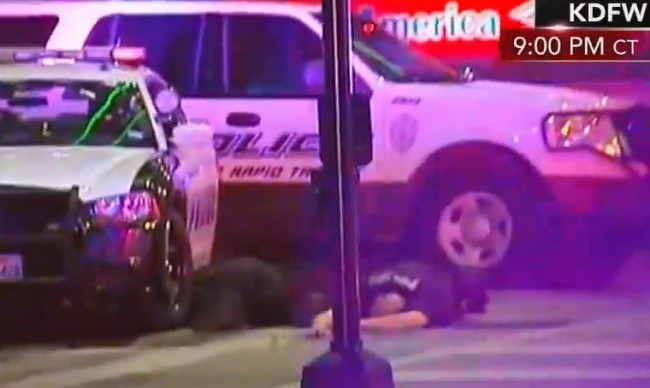 UPDATE –– 10:25 pm EDT: Below you can see disturbing, intense footage from when the shooting started, via Fox:
UPDATE –– 10:27 pm EDT: There are unconfirmed reports that the shooter had a rifle. Megyn Kelly had been noting earlier this evening that the protest had been peaceful until the shots rang out.
UPDATE –– 10:33 pm EDT: Someone on the scene posted a video on Facebook Live that picked up the gunshots and the ensuing chaos:
The police are still searching for the shooter.
UPDATE –– 10:38 pm EDT: Someone else posted another video nearby when the shooting started:
I am so scared. pic.twitter.com/jw88QnKGXG

— Allison (@allisongriz) July 8, 2016
UPDATE –– 10:46 pm EDT: You can watch Fox 10 Phoenix's li
UPDATE –– 10:59 pm EDT: There are new reports from local media that anywhere from 3 to 6 officers have been shot.
UPDATE –– 11:05 pm EDT: There are reports that authorities have tracked down a suspect and is negotiating with them. These reports also say there are at least two shooters.
UPDATE –– 11:14 pm EDT: One reporter posted video of someone, apparently a cop, shouting that a shooter is "in the alley":
WATCH: Police move people back from shooting scene in #Dallas saying 'he's in the alley' … @CBSNews #BreakingNews pic.twitter.com/de5NR4PfjJ

— Manuel Bojorquez (@BojorquezCBS) July 8, 2016
UPDATE –– 11:22 pm EDT: Below are two more videos from the scene, one of which shows that shots started to ring out as people were chanting "hands up, don't shoot":
-Footage- Protesters march down the streets of downtown Dallas the same time the first shot was made. pic.twitter.com/EK32JA7PCU

— Pop Crave (@PopCrave) July 8, 2016
Holy fuck pic.twitter.com/tB9V4beKav

— Trash Panda (@WhoAteMyPizza) July 8, 2016
UPDATE –– 11:26 pm EDT: DART has confirmed on Twitter that four officers were shot. Three were injured and one has died:
Four DART police officers were shot in downtown Dallas. 1 deceased, others not life-threatening. No IDs yet. Updates via twitter.

— dartmedia (@dartmedia) July 8, 2016
UPDATE –– 11:32 pm EDT: The Dallas police department has confirmed that three officers are dead and seven more have injures ranging from non-life-threatening to critical:
BREAKING: DPD Chief David Brown says 10 officers were shot by 2 snipers in downtown Dallas. 3 are dead, 3 are critical, and 2 are in surgery

— WFAA-TV (@wfaachannel8) July 8, 2016
And it appears police have cornered at least one of the two suspects:
Dallas Morning News says one suspect "neutralized," one suspect "pinned down."

— Emily Zanotti (@emzanotti) July 8, 2016
UPDATE –– 07/8, 12:00 am EDT: 10 officers were shot and 4 died. The Dallas PD has released a photo of a suspect (Update Below):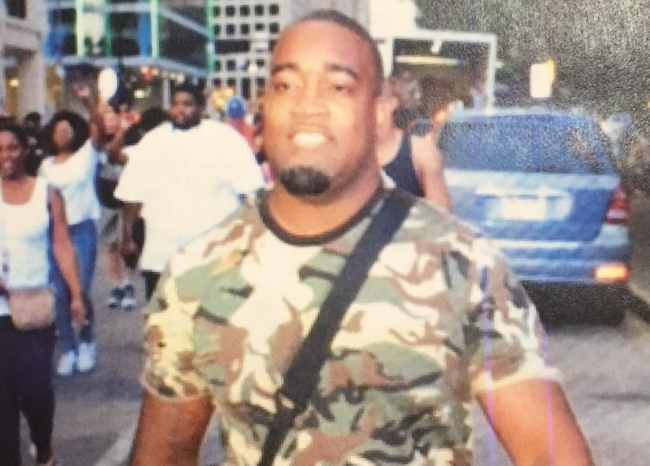 UPDATE –– 07/8, 2:30 pm EDT: The person of interest in the photograph above was questioned by police and released. He is not a suspect.
[image via screengrab]
— —
Follow Josh Feldman on Twitter: @feldmaniac
Have a tip we should know? tips@mediaite.com
Josh Feldman - Senior Editor