Fox News' Alan Colmes Flips Out When Called Out For 'Cheap Shot' About Rick Santorum Baby (Updated)
Fox's Alan Colmes Flips Out When Called Out For 'Cheap Shot' About Rick Santorum Baby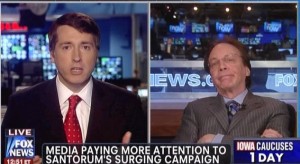 In a wild exchange on Fox News' Happening Now, longtime contributor Alan Colmes lost it a little bit when National Review's Rich Lowry pressed him over an attack on Rick Santorum's handling of the 1996 death of his newborn son. Colmes used Santorum's reaction to the death of 2 hour-old Gabriel as an example of "some of the crazy things he's said and done," prompting immediate, sustained pushback from Lowry, and death-stares from Colmes.
The segment was pegged to Santorum's polling surge in Iowa, which Colmes argued wouldn't last "once they get a load of some of the crazy things he's said and done, like taking his two-hour-old baby who died after childbirth and played with it for a couple hours so his other children would know that the child was real…"
"That's a cheap shot, Alan," Lowry interrupted, the first of many interruptions that would leave Colmes sitting back in his chair, staring daggers at Lowry, and asking to be alerted when it was his turn to speak again.
The incident they're referring to is the 1996 birth of a premature baby boy to Rick and Karen Santorum. The child only lived for two hours, and the Santorums dealt with the tragedy in an unusual way:
The childbirth in 1996 was a source of terrible heartbreak — the couple were told by doctors early in the pregnancy that the baby Karen was carrying had a fatal defect and would survive only for a short time outside the womb. According to Karen Santorum's book, "Letters to Gabriel: The True Story of Gabriel Michael Santorum," she later developed a life-threatening intrauterine infection and a fever that reached nearly 105 degrees. She went into labor when she was 20 weeks pregnant. After resisting at first, she allowed doctors to give her the drug Pitocin to speed the birth. Gabriel lived just two hours.

What happened after the death is a kind of snapshot of a cultural divide. Some would find it discomforting, strange, even ghoulish — others brave and deeply spiritual. Rick and Karen Santorum would not let the morgue take the corpse of their newborn; they slept that night in the hospital with their lifeless baby between them. The next day, they took him home. "Your siblings could not have been more excited about you!" Karen writes in the book, which takes the form of letters to Gabriel, mostly while he is in utero. "Elizabeth and Johnny held you with so much love and tenderness. Elizabeth proudly announced to everyone as she cuddled you, 'This is my baby brother, Gabriel; he is an angel.' "
It's a story that I have heard mocked by many liberals (and mistold, by others, as having followed a miscarriage), and I agree with Lowry that the intensely personal arena of human grief ought not be cheapened into political fodder. Within reasonable limits, I don't think anyone should be judged for things they say or do in the face of extreme grief.
The fact that Karen Santorum publicized the event means that, to some extent, it is an appropriate subject for public discussion, but then it should be handled in a delicate, respectful manner. While I think Lowry was taking a cheap shot of his own when he accused Colmes of "mocking" the Santorums (and with his deployment of the coded phrase "Manhattan liberals"), neither was Colmes' characterization that they "played with" the dead child fair or particularly sensitive. He probably shouldn't have brought it up at all, but his critique, while cold and lacking in relevance, fell well short of mockery.
UPDATE: Colmes has tweeted that he called Santorum and his wife and apologized for the comment, an apology which was accepted.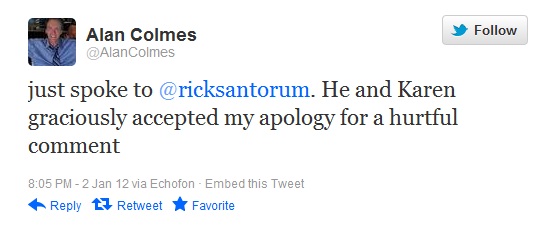 just spoke to @ricksantorum. He and Karen graciously accepted my apology for a hurtful comment
Here's the clip, from Fox News:
Have a tip we should know? tips@mediaite.com