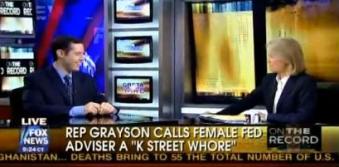 Democratic Rep. Alan Grayson hasn't shied away recently from making controversial comments, that have heaped on him a lot of attention. The new one – calling a female adviser to Fed Chairman Ben Bernanke a "K Street whore."
Greta Van Susteren and ABC News' Rick Klein discussed this last night.
"We're in this culture where you've got 435 members of Congress and the way to be known and be the one who people are talking about is to say something outrageous," said Klein.
Grayson has since apologized, saying, in part, "This characterization of Ms. Robertson, made during a radio interview last month in the context of the debate over whether the Federal Reserve should be independently audited, was inappropriate, and I apologize."
But the soundbite is out there. And with Pres. Obama saying how "outstanding" Grayson is at a Miami fundraiser this week, the media has a new angle.
"I'm not so sure I'd advise the President to be praising Grayson," said Van Susteren.
"Careful what gets fed into the teleprompter there for you," joked Klein. "This is kind of the staple language you use at fundraisers."
The "K Street whore" comments got the full press from Fox News in prime time – it was discussed on every show. And it wasn't mentioned by its cable news competitors CNN and MSNBC on any show in prime time. But having Bill O'Reilly or Sean Hannity discuss it comes across differently than when an ABC News correspondent comes on to weigh in. Klein appears periodically on Shepard Smith's 3pmET Studio B, and George Stephanopoulos has made a few appearances on the network.
But on a story like this, getting a perspective from a traditional, hard news outlet like ABC News helps FNC continue to make the case to its critics (like, the White House), that it is a news outlet and does cover the news. And it doesn't hurt ABC News either – there's a lot of viewers it would certainly like to pull into its programming that watch Fox each night.
Here's the Grayson segment On The Record last night:


—–
» Follow Steve Krakauer on Twitter
Have a tip we should know? tips@mediaite.com