Fox News' Andrea Tantaros Accuses Brian Williams Of Being 'Intimidated By The Audience'
Andrea Tantaros Accuses Brian Williams Of Being 'Intimidated By The Audience'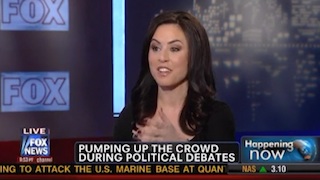 As we wrap up another Republican debate, lets look back at the sub-plot that's been brewing throughout the primaries, the debate about the debates, if you will. I'm talking, of course, about the question over how involved the debate audience should be in the proceedings, a subject that's been brewing since some questionable response choices a few months ago and reached a head thanks to Brian Williams' decision to quiet the audience of the debate he moderated. The topic was broached today on Fox News' Happening Now and The Five host Andrea Tantaros accused Williams of being afraid of the audience.
Here's what she said. Feel free to loudly applaud or boo the comments as you read them:
"I think [Williams] did it because he was intimidated by the audience response. They probably wanted to save time to by not wasting time with the audience response but I think it's great too. It's been part of our political process for a long time. Look back to Ancient Greece, look back to Ancient Rome where the crowds were participating."
Yeah, Williams! The Ancient Greeks did it, you wimp! I bet you don't even want us to feed the losing candidates to lions!
Anyway, Tantaros actually discussed this subject before over on The Five and, while she seemed hesitant, she didn't discuss her feelings in any way as decisively as she did here. Maybe she herself was intimidated by Dana Perino's response. You can't blame her. Perino may look sweet, but you can tell, deep down, she can throw a fist.
Tantaros had much more agreeable company here thanks to The Daily Beast's Kirsten Powers who was very much on the loud audience bandwagon:
"I don't even understand the idea that they shouldn't be able to make noise and react. Why are they there? They're not potted plants. They're there, I think, because they care a lot about these issues so they absolutely should be able to react and I think it actually made the debates more interesting."
Thank God they're not potted plants. If Brian Williams was intimidated by a plant, then he'd really look like a wuss.
Side note: I had the privilege of going on a cable news show once to represent Mediaite (I'd link to the clip but…no) and I have to say that the absolute hardest part was when I was being introduced. It's terrible! You just had to sit there, blankly smiling into the camera like an idiot, while they rattled off your credentials. I bring this up because Tantaros' intro in this clip is like five seconds long. I don't know how she does it. Seriously, each of those seconds must feel like an hour.
Watch the clip on Fox News below:
Have a tip we should know? tips@mediaite.com