Yesterday afternoon's tragic shooting at Fort Hood saw the cable news networks cover the story wall-to-wall, and continue coverage into prime time. That's when there began to be some separation.
Here are five things we learned last night from cable news coverage of the shooting.
• Fox News' "news" does news: Two of the newsiest early interviews took place on Fox News, during Shepard Smith's 7pmET hour. They included one with a former colleague of Nidal Malik Hasan and one with his cousin. In the cousin's interview, the big news was that Hasan was fearful of being deployed overseas. It got big pick-up across the web and through other media – and interestingly, by CNN.
During Campbell Brown's 8pmET hour, she mistakenly introduced a clip as CNN original video, then played part of Shep's interview. Immediately after, she identified it as a Fox News interview. But the point is – during a traditional news hour, Fox News was doing traditional news. This contradicts what CNN/U.S. President Jon Klein said recently to the Los Angeles Times, "They are in a completely different business than we are…We are not putting out the same product as they are. And we shouldn't be compared to them on that account." (FNC's response: "Jon's correct: It's unfair to compare CNN to Fox News…Based on his network's dismal ratings, it's more accurate to compare CNN to the G4 channel.")
• CNN will do it live: Once again, CNN took it upon themselves as the newsiest news network, and covered the Fort Hood story significantly more than their competitors. On one level, it was simply a decision to go live for more time than MSNBC or Fox News. After Anderson Cooper did two live hours as opposed to one, Wolf Blitzer anchored another hour at MidnightET. On Fox News, Greta Van Susteren also did two live hours instead of one, before FNC went back to tape. MSNBC stuck to its usual schedule, which meant going to repeats at 10pmET – and meant at 10:18pmET, the 8:18pmET Keith Olbermann told viewers Hasan was dead.
But it was more than just staying live. The majority of all of their programs, including Lou Dobbs' at 7pmET, covered the Fort Hood story as the major breaking news story it was. Will it translates to ratings? Probably not, but who cares. This is the storyline CNN wants to portray, and even more importantly, this is the directive – focus on journalistic quality. It happened last night.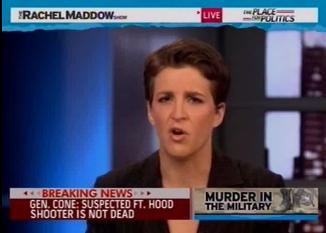 • Rachel Maddow can handle breaking news: As we made our way through the prime time line-ups at Fox News and MSNBC, it was interesting to see how each network handled the Fort Hood news. Both Olbermann and Bill O'Reilly did not spend significant time covering the story, while their 9pmET counterparts, Rachel Maddow and Sean Hannity were almost forced to because the lengthy press conference took place during their hour. But as Hannity jumped in and out of Fort Hood coverage, Maddow made it a focus of her show (until the very end).
And the coverage was unique and interesting. One of the key guests was Lee Christopher Smith, who recently wrote a lengthy piece for Rolling Stone (amazingly, RS still doesn't put most of its stories online) about the Fort Carson slayings. His expertise on that situation lent a perspective that wasn't found on other networks. The apolitical anchoring showed Maddow has the ability to move beyond an opinion-based show, and into a hard news role if the circumstances dictate.
>>>NEXT PAGE: Bachmann, speculation and videos.
Have a tip we should know? tips@mediaite.com