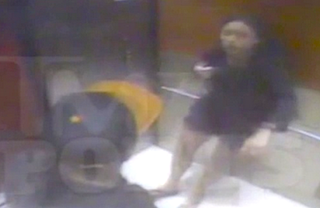 Since the elevator surveillance video of Baltimore Ravens running back Ray Rice punching out his then-fiancée emerged earlier this week, it has been replayed over and over again on both sports and news networks. But after pushback from viewers and some women's groups, several networks said Thursday that they will stop showing it on television.
According to the Associated Press, ESPN, CNN, ABC, Fox News and Fox Sports all indicated that they would stop showing the footage "unless there are compelling news reasons to bring it back."
"The video has been seen enough for viewers to clearly know what happened, and make their own judgments about what should happen next," Fox News senior vice president Michael Clemente said in a statement. "Our judgment is that continuing to show it is simply overdoing it for shock value, and not for journalistic reasons."
Similarly, CNN's vice president of programming Janelle Rodriguez said the excessive replaying of the footage can become "gratuitous."
While ESPN showed the video consistently throughout the day Monday, but midday Tuesday, spokesperson Josh Krulewitz said, "It was obviously quite disturbing and we felt the audience had seen it enough."
NBC News and its cable counterpart MSNBC were not listed in the AP story on the video. We have reached out to the network for comment and will update this article accordingly.
The networks' decision to stop — or at least cut back on — playing the Rice video has to be considered bad news for TMZ, which plastered its TMZ Sports logo all over the footage and has been getting massive amounts of free publicity all week across every single major sports and news network.
Of course, unlike on television, where the footage becomes wallpaper behind discussions and debates, online users must choose to play the video in order to watch it, as you can do below, if you wish:
[Photo via screengrab]
— —
>> Follow Matt Wilstein (@TheMattWilstein) on Twitter
Have a tip we should know? tips@mediaite.com