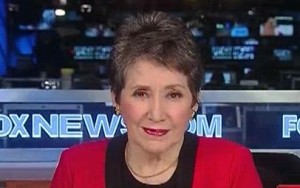 Mitt Romney's first TV advertisement of the campaign season has been widely panned all over the media. Wolf Blitzer called it "a new low," White House Press Secretary Jay Carney reportedly had a "total meltdown" over the ad, and Lawrence O'Donnell was insistent that the media call Romney a liar for the false information in the ad. Earlier today, Fox News commentator Liz Trotta weighed in on the ad, and was just as critical as everyone else in her review.
Trotta noted that although Romney has been seen as a gentleman throughout the campaign, the out-of-context quote of President Obama's placed in the ad makes it clear he does not intend to run his campaign like a gentleman. And as if she was directly answering O'Donnell's plea, Trotta declared the ad "an out and out lie." She played Obama's comment both in the context of the advertisement, and in the context of his actual comments back in 2008.
RELATED: Mitt Romney's Advisers Proclaim Misleading Anti-Obama Ad 'Worked'
But it wasn't just the deceit that bothered Trotta, she was also disturbed by how Romney's campaign didn't even try to deny the comment was used out-of-context and defended they way they used it in the ad.
"The worst part of it was even though the Obama campaign said it was deceitful, which it was, the people over in Romney's office have said that, 'Oh yes, we like it the way it is, we wouldn't change a thing. In fact, the president did say those words.' Of course, they didn't say that there were other words too that totally changed its meaning."
There are, no doubt, plenty of real quotes from President Obama on the economy that his Republican rivals could use to play back in their advertisements, so why bother going with fake ones?
Watch the video below, courtesy of Fox News:
Have a tip we should know? tips@mediaite.com
Josh Feldman - Senior Editor