Fox News Contributor Dick Morris Reprimanded For Auctioning Fox HQ Tour At GOP Event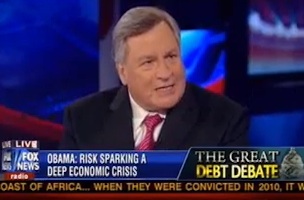 Fox News contributor Dick Morris has been reprimanded by the network for having offered a personal tour of its NYC headquarters as an auction item at a Republican fundraiser.
Although Morris was able to garner a reported $6,000 at the Lake County Republican auction, the winner will have to somehow be content with staring wistfully at his screen as the network has put a kibosh on the tour.
RELATED: Don Imus Tries To Get Fox's Martha MacCallum To Admit Dick Morris Is 'Creepy'
TVNewser's Alex Weprin reports that the network's executive vice president of programming, Bill Shine, shared that the tour "will absolutely not take place, nor would something like that have ever taken place if we were aware of it."
Morris, for his part, has apologized profusely.
Inside Cable News, however, thinks Fox News reacted with what basically amounts to a light slap on the wrist:
Reprimanded? He should be fired outright or at the very least suspended. Read that headline at the top of this post again. I wrote it that way for a reason…because that's what Morris did. He was fundraising for the GOP using FNC resources. A simple reprimand does not go far enough. Joe Scarborough and Keith Olbermann both got suspended for donating to campaigns. Yes, MSNBC is not FNC…in this case it appears MSNBC takes these things more seriously than FNC does.

Morris is an old political player. He knows the rules. He knows what looks good and what doesn't look good. Or, rather, he should know by now what looks good and what doesn't look good. This was easily avoidable and the potential damage to FNC severe. That FNC didn't throw the book at Morris will actually make FNC look worse than it potentially would have had this all come out after the fact.

FNC has a long and distinguished history of doing the absolute minimum regarding punishing its staff for errors in judgement that could severely hurt the network's reputation.
After listing a quartet of infractions that have not resulted in firings, the ICN's post concludes with something of an incredulous head shake: "I don't get it. I really don't. If someone makes me look bad by their actions, I punish them for it. There has to be accountability. People have to know there are limits and if you exceed those limits there will be a price to be paid."
h/t TVNewser via Inside Cable News
Have a tip we should know? tips@mediaite.com