Fox News Contributor Mitt Romney*? Brian Kilmeade And Chris Wallace Trigger Speculation
Fox Contributor Romney? Brian Kilmeade And Wallace Trigger Speculation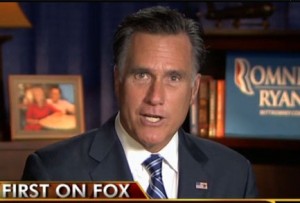 Former Massachusetts Governor Mitt Romney* is back in the news for the first time in months, following the announcement of his upcoming speaking gig at the 2013 Conservative Political Action Conference. Aside from maybe getting booed off the stage, people (at least two) are wondering what Romney hopes to accomplish with his first post-election appearance, and beyond. On the latter score, Johnny Dollar flags an intriguing exchange between Fox and Friends co-host Brian Kilmeade and Fox News anchor Chris Wallace on Kilmeade's radio show, in which Wallace brags about knowing what's next for Mitt Romney, then clams up when Kilmeade maybe guesses right.
On his radio show today, Kilmeade begins his Jedi mind-trickery with a "lightning round" question about Ted Cruz, then quickly moves to "Mitt Romney at CPAC; what's his message?"
After some very brief boilerplate, Wallace gives up the least subtle clues in the history of beating around the bush, volunteering to Kilmeade "Let me simply say, and it'll become clear a week from now, that there is more that Mitt Romney is going to be doing."
"Really?" Kilmeade responds. "Do you want to expand on that?"
"No!" Wallace responds, abruptly.
"Do you know?" Kilmeade asks.
"Yes!" Wallace replies.
Wallace and Kilmeade briefly discuss playing "Warmer/Colder," and while Wallace says he won't play, he does eliminate Kilmeade's first guess, a 2016 run at the vice-presidency.
Then, Kilmeade says "Fox News contributor?"
After a short pause and exactly one hem and one haw, Wallace replies, "We're not playing 20 questions here, my friend!"
Only time will tell if Mitt Romney is, in fact, the 'Droid Fox News is looking for, but if I were making a $10,000 bet, I'd put it on the Fox News PR Department taping up a Chris Wallace dartboard right about now. Either Fox is about to announce that they've signed Romney as an on-air contributor, or they're about to announce that Mitt Romney has been contributing on-air for several months now, and it's just not working out.
Here's the audio, from Kilmeade and Friends:
*Mitt Romney was the 2012 Republican nominee for president.
Have a tip we should know? tips@mediaite.com