Fox News Contributor Warns Obama Not To Target FNC: 'Without A Free Fox, There's Not A Free America'
Fox Contributor Warns Obama Not To Target FNC: 'Without A Free Fox, There's Not A Free America'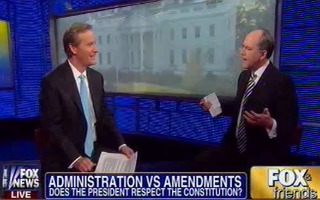 Fox News Channel legal analyst Peter Johnson Jr. severely scolded President Barack Obama and much of the media on Tuesday after the president singled out Fox News Channel and Rush Limbaugh as being impediments to his success and social progress in an interview in The New Republic. Johnson said that the president was frustrated with Fox because they have the best reporters, thinkers, and commentators in the business and they consistently speak truth to power. "Without a free Fox, there's not a free America," Johnson said.

RELATED: President Obama Laments Rush Limbaugh And Fox News' Influence On Public Debate
"If a Republican member of Congress is not punished on Fox News or by Rush Limbaugh for working with a Democrat on a bill of common interest, then you'll see more of them doing it," Obama told TNR.
"The First Amendment is seriously in doubt when a president says 'I need to embrace the people who embrace me,'" Johnson said. "I need to embrace MSNBC because they know how to do comprise, and because they will take my talking points in the morning and throughout the day."
"I need to embrace a philosophy that says, 'if you object, or question, or seek debate, that that's bad and you're an enemy of the state," Johnson added.
"Fox News stands for the First Amendment today, as does Rush Limbaugh," Johnson continued. "The job of Fox News is to go after policies and politicians in a constructive way."
"Fox News has the best reporters in America, and the best commentators and thinkers in America," he went on. "If that upsets the President of the United States or the Democratic leadership, then so be it."
"Without a free press, there's not a free America," Johnson concluded. "Without a free Fox, there's not a free America."
"There's a reason we're number one," Steve Doocy noted.
Watch this segment below via Fox News Channel:
> >Follow Noah Rothman (@NoahCRothman) on Twitter
Have a tip we should know? tips@mediaite.com