Fox News' Douglas Kennedy, Son Of Robert F. Kennedy, Arrested After Hospital Altercation (Updated)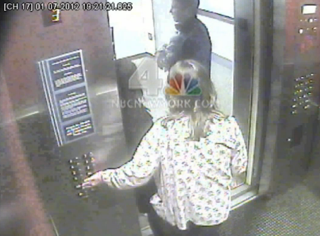 Douglas Kennedy, son of Robert F. Kennedy is facing charges of harassment and endangering the welfare of a child after an incident last month in which he tried to take his son from the maternity ward but ended up attacking nurses attempting to stop him from taking the child away. While they are misdemeanor charges and the doctor in charge takes his side, he is accused of kicking and forcefully grabbing the wrist of one of the nurses, and security video shows the altercation.
NBC New York broke the story of the charges last night, which note that the doctor in question claims to have suggested Kennedy take a walk with his son but the nurses refused to allow him. According to NBC, a deposition shows the head nurse stating Kennedy wanted the child to "get fresh air," and the nurse denied him permission. He then tried to go down the stairs anyway but the nurse barred him from doing so while another tried to grab the baby. "While holding the child in his right arm, Kennedy kicked Luciano in the pelvis with his right foot, knocking her backward onto the floor, police said," the report concludes.
Fox News has reported this story, and Kennedy and his wife had given NBC a statement: "The nurse had no right to attempt to grab our child out of his father's arms and I, Douglas, was shocked and appalled when she did so."
Before landing at Fox News, Kennedy worked for the New York Post and Boston Herald. His biography at FoxNews.com notes that "he was the first national reporter to link anti-depressant medications to adolescent suicide and violence" and, among other stories, covered the September 11 attacks, the Iraq war, and Hurricane Katrina.
Below is the Fox News report on the news story, followed by NBC's elevator footage of the incident at hand: (Update below videos)

(UPDATE) Statement from Roger Ailes, Chairman and CEO, FOX News below:
"I have known Douglas Kennedy, his wife and his family professionally and personally for over 15 years. He tells the truth and his calm and gentle demeanor always impressed me. He is the definition of a great father and it is a role he cherishes over all others. I support Douglas as do the independent eyewitness accounts of the event. It is unfortunate that what appears to be a father's defensive maneuver to protect his newborn baby has been twisted because of his famous name. In my view, the real moral of this story should be don't try to grab a baby from the arms of a loving father."
Have a tip we should know? tips@mediaite.com