Fox News Employee Recounts Witnessing Empire State Building Shooting En Route To Work
Fox News Employee Witnesses Empire State Building Shooting En Route To Work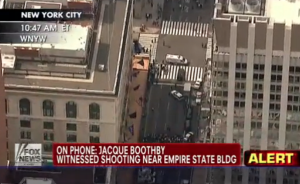 On the way to work this morning, Fox News booker Jacque Boothby witnessed the shooting that took place at the Empire State Building. Phoning into the America's Newsroom, Boothby recounted her experience Bill Hemmer.
Boothby, who's since spoken to police, said she told them what she saw as she was crossing the street in the morning and heard four gunshots. "A woman fell at my feet and I honestly got nervous and kind of hid behind…when the gunshots subsided, I got back up and I tried to help the woman, tried to prop her head up, do whatever I could. I'm not sure if she's okay now or not." The woman, she said, was shot in her abdomen or side.
She was breathing, Boothby said, "but it was hard for her to speak." Asked whether she was able to see the shooter, Boothby said she couldn't.
"It sounded like he was on foot, but there was still other people crossing the street, so maybe he was amongst the crowd," she said. "But when the shots happened, everyone just fled the intersection and just ran in any opposite way that they could."
She added, "All I really heard were shots and people falling to the ground."
Boothby then went on to describe how surreal the situation felt:
"I mean I've never heard a gunshot before, so I wasn't sure if it was just sounds or the city or something. It was more muzzled, not like a distinct gunshot, but you could hear that there were four actual shots. But they did say that there was a police officer on the corner, and I guess he had maybe seen this, and I believe he was the one who chased down the gunman and shot him."
As for the police questioning, Boothby said it was fairly standard: Questions about whether she'd seen the gunman (no), known anything about the incident ("obviously didn't"), what she'd seen, and conditions of the people there.
Her account of what she witnessed below, via Fox News:

Have a tip we should know? [email protected]