Fox News' Eric Bolling Raves About The Hunger Games And Its Conservative Message
Fox's Eric Bolling Raves About The Hunger Games And Its Conservative Message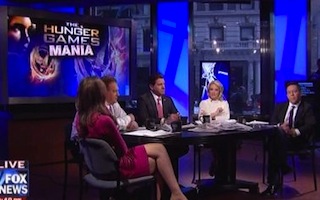 Well, it turns out it wasn't just fans of the book series and fans of Jennifer Lawrence's Oscars dress that showed up to see The Hunger Games this weekend. The whole Bolling clan attended and Eric Bolling absolutely loved it, especially because he saw it as a perfect conservative teaching tool.
"The film is very entertaining. It hits on all the emotional topics; love, war, greed, fear, class warfare, corruption, cronyism all up there on the screen. There was even a teaching moment for our family on the ride home. I sparked up a conversation with [my son] Eric Chase about the central themes of the film; an out of control government so powerful, they're able to demand fight to the death televised hunger games. And the very important sub theme of hope."
RELATED: Hunger Games Fans At Midnight Premiere Hilariously Trolled With Incorrect Trivia
Greg Gutfeld was thoughtful in his response, wondering aloud if the series was conservative or libertarian. However, according to him, these were the only interpretations possible. He mentioned that Gossip Girl star Penn Badgley had theorized that the books worked as a good parable about the wealthy One Percenters exploiting the poor. Gutfeld claimed this only proved that Badgley was "an idiot."
Meanwhile, Dana Perino pointed out that Jennifer Lawrence had finally proven that a actress can successfully open a blockbuster.
Um…Dana? Sigourney Weaver just called. She wants to challenge you to a power loader fight.
Watch the clip from Fox News below:
Have a tip we should know? [email protected]