Fox News' Erick Erickson Jokes 'I Wonder When President Obama Will Find Out About Oklahoma'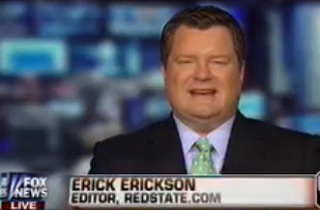 In the social media age, it has become a tedious ritual to track the tasteless things that people often tweet during unfolding tragedies, and to take tiny-minded satisfaction in shaming them. The devastating tornadoes in Oklahoma are no exception. Comedian and Daily Show co-creator Lizz Winstead used the tornado to lampoon the current scandal-mania in a series of jokes, then apologized for it. Fox News contributor and Redstate.com editor Erick Erickson offered a tweet that was a mirror image of one of Winstead's jokes, and has not apologized.
Lizz began with a now-deleted tweet referencing the current IRS controversy, sent, as she later noted, before she knew of the storm's devastating, still-unfolding toll. "This tornado is in Oklahoma so clearly it has been ordered to only target conservatives," she tweeted.
She also joked about the tornado bumping her from a guest spot on MSNBC's Martin Bashir show, before apologizing about an hour and a half later. "Made a political joke, Twas before devastation revealed. In hindsight, had I understood, I would have refrained. Beyond sorry. #LetMeHaveIt," she tweeted, adding "Worse thing is I am from MN! I know this!! Bad joke. Bad Timing. Just bad."
To those trying to downplay her transgression, Lizz tweeted "No, it's worth giving me shit. I was an idiot."
One of her jokes, however, turned out to be oddly prescient. Mocking Republican scandal fever, she asked "How long has Obama known about this Tornado?"
That's exactly the premise of a tweet that Fox News contributor Erick Erickson sent in the aftermath of the devastation. "I wonder when President Obama will find out about Oklahoma," he tweeted.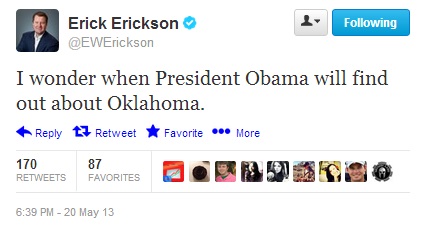 Erickson went on to scold his critics as humorless and "self-righteous," even as he tweeted "Confession: I often hesitate to retweet pastors because of the unbridled hate from the hell bound that might then get directed at them."
Taking a page from the late Andrew Breitbart's Twitter playbook, Erickson retweeted comments from those who condemned his tweet. He also cautioned against people who say stupid things during tragedies by urging "Someone please keep Pat Robertson away from the TV cameras for a few days."
Mixed in with all of that were Bible verses, well-wishes for the victims, and, for some reason, this:
Dear LinkedIn, I hate you.
And, for some other reason, a retweet of this:
Does Yahoo! understand how competitive the pornography space is???
All of this would seem to indicate that Erick Erickson might have a bit of a self-awareness problem, but more importantly, that people don't think all that clearly when they're upset. That's not a plea for forgiveness, since Erickson isn't asking for any, it's just an observation about the phenomenon of stupid tragedy tweets. It's an observation that Erickson clearly missed when he retweeted "Outrageous. –> RT @lizzwinstead: This tornado is in Oklahoma so clearly it has been ordered to only target conservatives."
Confession: I don't like Erick Erickson. We have many mutual friends, though, and the picture that they paint of him is of a decent individual with a forceful belief in his political principles. I'm not seeing it. Everybody is loved by someone, I guess. Even Hannibal Lecter had friends. Erick Erickson is, in my view, not just a bigot, but an influential bigot. I don't like the guy, and while I don't personally know him enough to assess his entire humanity, "vomitous" wouldn't be an adjective that I would argue that strongly against.
By the same token, I've been acquainted with Lizz Winstead for a few years, and while I see how her brand of deliberately provocative humor could lead some to dislike her, I've always had nothing but warm feelings for her. I'm as disappointed in her choice of jokes as she is, but none of that changes how I feel about her. I'm glad she apologized, and devoted her subsequet tweets to trying to be of some help.
It would be cheap and opportunistic of me, then, to suggest that Erick Erickson's conduct (apology or not) should be the basis upon which his humanity ought to be judged, that this is the reason people should be repulsed by him. He made the same joke Lizz did, and he refuses to apologize because, if I read him correctly, his joke wasn't intended to be at the expense of the tornado victims, but a shot at President Obama. Winstead's tweets, similarly, were at the expense of Republican witch-huntery. She apologized, he did not, but nothing I already knew about Erick Erickson would lead me to believe he'd act otherwise. At the same time, anyone who already didn't like Lizz Winstead would likely dismiss her apology as PR damage control. Nothing about these shaming exercises is genuine.
While I'm grateful to Erick and Lizz for providing me with a distraction from the awful news that's sure to come out of Oklahoma today, the people who are getting worked up over this need to understand something. There is nothing in the world less important, right now, than what Lizz Winstead and Erick Erickson said on Twitter. It is worth documenting, if for no other reason than to help others know when to step away from the keyboard, but it doesn't mean anything, it's not worth getting even a little bit worked up over. If you're getting your jollies by shaming Erick or Lizz because you already didn't like them, you're cheapening this tragedy as surely as those jokes did. Does that mean you're an awful human being? No, it means you're a human being. We're not perfect, but we can try to be better.
Have a tip we should know? [email protected]