Fox News Explains How Futurama's Bender Won An Election To Head DC's School Board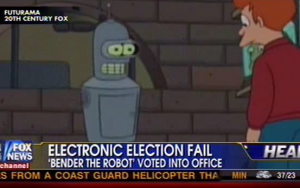 On Friday's Fox & Friends, host Steve Doocy introduced a story about how Bender — a cartoon robot from Comedy Central's Futurama — was voted in as the head of the Washington, D.C., School Board. The election, Doocy explained, wasn't real — it was a trial run for electronic voting systems and how secure they are. A team from the University of Michigan hacked in and made Bender the winner.
"If you think electronic voting systems are secure," Doocy explained, "try explaining how the guy you're about to see won an election." He then showed a clip of Bender's arms falling off.
The full story behind the hack is even more interesting. Teams from around the world were invited to try and crack in to the system. University of Michigan Professor Alex Halderman, along with two graduate students, were the first to break in, according to The Guardian's Iain Thomson. Halderman's team set up protocols that would disallow other potential hackers from getting in, and — along with crowning Bender winner of the school board election — inserted the word "owned" on the final signoff screen and set up the University of Michigan fight song to play after 15 seconds. According to Thomson:
It took two days before the authorities discovered they'd been pwned, and they were only alerted to that fact when another tester told them the system was secure, but that they should lose the music on the sign-off screen, as it was rather annoying.
Read Halderman's account of the hack here. And watch a clip of the report below, courtesy of Fox News:
Have a tip we should know? tips@mediaite.com