Fox News 'Exposes' The Most Awesome Barack Obama Speech Ever…That Fox 'Covered Up'
Fox 'Exposes' The Most Awesome Barack Obama Speech Ever...That Fox 'Covered Up'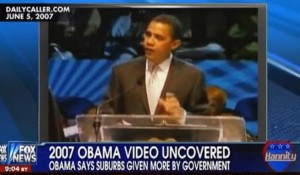 This will be remembered as the day Sean Hannity, Matt Drudge, Tucker Carlson, and much of the right wing prepared to board their white resentment mothership, only to have it crash and burn. On Tuesday night's Hannity, host Hannity dropped the "bombshell" that Drudge had been teasing for hours, and that The Daily Caller published "exclusively": a 2007 speech that was actually covered extensively at the time, now being hyped as "The Other Race Speech."
The ultimate punchline in this long comedy bit of a story, though, is that the speech Hannity says "so-called unbiased journalists have been trying to hide for years" was actually aired by Fox News. In the ultimate act of newsturbation™, you had Sean Hannity exposing the coverup of a speech his own network aired, interviewing Tucker Carlson about a speech he had also covered in 2007.
There's not enough space on the internet to cover the derision this story is receiving from those outside the White Resentment Bubble, where then-Sen. Obama's completely empirically correct observation that the victims of Hurricane Katrina were treated differently than those of Hurricane Andrew or the attacks of 9/11 amounts to a declaration of race war, but the segment itself is a wealth of entertainment, up to and including Hannity and Carlson's breathless, self-fanning critique of Barack Obama's black-cent. As the rest of us already know, that's called "being folksy" when white people do it, but to Hannity and Carlson, it's eeeeevil.
There's also not enough space or inclination on my part to catalog all of the stupid things Sean Hannity squeezed into this segment, so I'll just give you one example. The then-Senator went off-script to describe the difference in the way disaster relief for Hurricane Katrina, Hurricane Andrew, and the attacks of 9/11 was handled in relation to the Stafford Act. According to Hannity, Sen. Obama was advancing the "notion that the government is turning its back on African-American communities, while doing all it can for predominantly white areas."
That's right, folks, in Sean Hannity's bubble, New York City is a "predominantly white area." I guess if you only count the people Sean Hannity cares about, maybe it is.
Carlson's comments are equally stupid and I believe extra racist claiming that Obama was "telling a predominantly black audience something very clear– the federal government doesn't like you because you are black." (Carlson hasn't smartened up since the first time he covered this speech, at which time he predicted, of Obama, "He's going to lose the Democratic nomination and just be one of 100 senators.")
If you step outside the Hannity bubble and watch the actual speech, though, you get a more impassioned, more inspiring Barack Obama than we've seen in years. That story he tells about the bullet in the baby nearly had me running down to church to repent, and he used the metaphor to powerful effect throughout, in a speech that addressed poverty in blackity-black places like Iowa, and urged totally racist things like his super-secret plot to expand public transportation. Much like the Breitbart.com "bombshell" from earlier this year, this tape actually makes Barack Obama more likable, not less.
That's probably why the Romney campaign is denying any involvement in leaking the tape, because they don't want to be blamed for helping Obama. The awesomeness of the speech, coupled with the naked racial paranoia of Hannity and Carlson, plus the deadly media mockery of the entire enterprise, will redound to the President's benefit, except with people who were already not voting for him.
Here's the segment, from Fox News:
Follow Tommy Christopher (@TommyXtopher) on Twitter.
Have a tip we should know? tips@mediaite.com