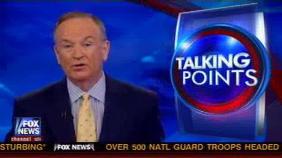 Fox News will not come close to abandoning its spot as the top-rated cable news network for a long time – but the entirety of cable news, including FNC, is on the decline.
In several key categories though, despite drops, FNC expanded its lead over the competition.
For the first time ever, FNC had all 13 of the top cable news programs in both total viewers and the A25-54 demographic during the first half of the year. There have been months where Fox News has achieved this, but never for a six-month average. The top 5 show hosts: Bill O'Reilly, Sean Hannity, Glenn Beck, Bret Baier, Greta Van Susteren.
In the second quarter of 2010, compared to the second quarter of 2009, FNC topped CNN and MSNBC combined in total day and CNN, MSNBC and HLN combined in prime time (total viewers). But like the rest of cable news, FNC saw declines as well.
In prime time demo, FNC was down 9% while MSNBC was down 10%, CNN down 28% and HLN down 23%. In total viewers, FNC was down 10% compared to MSNBC (4%), CNN (31%) and HLN (12%).
In total day, CNN continued to shed viewers, falling further behind first place FNC. But it is the third place network in total day (demo and total viewers), MSNBC, that fell the least – and for the first quarter is coming dangerously close to unseating CNN for 2nd place. MSNBC finished just 7,000 demo viewers behind CNN.
This battle – CNN vs. MSNBC during total day – appears to be the most hard fought as we enter quarter three of 2010. Fox News' slight decline is an interesting storyline, but it doesn't take away from their utter dominance of cable news (and really cable in general: they were 3rd in prime time overall in Q2). MSNBC continues to hold strong as #2 in prime time, despite continued year-to-year declines by Keith Olbermann at 8pmET (5th consecutive quarter down double digits). If MSNBC can topple CNN during the day it would be a coup in a category CNN likely considered bulletproof. We'll see in a few months.
—–
» Follow Steve Krakauer on Twitter
Have a tip we should know? tips@mediaite.com