Fox News First to Cut Away from Benghazi Hearing as CNN, MSNBC Continue Live Coverage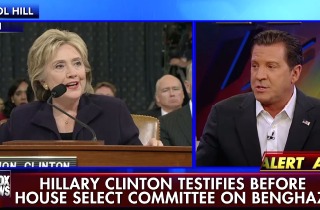 One of the reasons Benghazi bubbled into a huge Obama administration scandal is because of Fox News, so it might surprise you to learn that of the three big cable news networks, Fox News was the first to cut away from today's hearing.
CNN, MSNBC, and Fox had all covered the the first two segments of the hearing live. After a second short break, the committee reconvened at 5 pm. CNN and MSNBC went back to covering it live. Fox News showed video of the committee getting back to business, but the audio was muted as the hosts of The Five provided their analysis of the hearing thus far.
They spent a lot of time analyzing the hearings, with two segments devoted to other topics like the election and the hacker who obtained the CIA director's emails.
And, well, plenty of people noticed they cut away from live coverage:
Hey, @FoxNews! I love to hear your commentary and all but get back to #BenghaziCommittee hearing! Had to switch to CNN! #FoxNews

— Michael A Nöthem (@mikandynothem) October 22, 2015
Proof @HillaryClinton is winning the hearing: @FoxNews has cut away from live coverage.

— Lawrence O'Donnell (@Lawrence) October 22, 2015
Fox News is not on the Benghazi hearings… regularly scheduled program "The Five."

— Eddie Scarry (@eScarry) October 22, 2015
Fox News no longer showing this live… replaying clips from earlier parts of Benghazi hearing.

— Blake Hounshell (@blakehounshell) October 22, 2015
@FoxNews I hate having to turn to CNN in order to get live #Benghazi hearing coverage. We can see the five anytime!

— Ktown (@keslerb) October 22, 2015
@FoxNews stop covering the Benghazi hearing, the Rs are in troubles and @HillaryClinton is doing great. #BenghaziCommittee

— Yves K. Bouilly (@YvesKBouilly) October 22, 2015
Hey, Fox News appears to be ditching the Benghazi hearing for "The Five," as @IceManNYR pointed out: https://t.co/RXAGxfheTj

— ErikWemple (@ErikWemple) October 22, 2015
Now, in fairness, Fox News did continue to run its online live stream, as Greta Van Susteren told two people who complained on Twitter:
@stevewest222 we are live streaming — go to https://t.co/hSjPeWqWtg and click to watch

— Greta Van Susteren (@greta) October 22, 2015
@Biloximeemaw go to https://t.co/hSjPeWqWtg and click to watch live streaming

— Greta Van Susteren (@greta) October 22, 2015
[image via screengrab]
— —
Follow Josh Feldman on Twitter: @feldmaniac
Have a tip we should know? tips@mediaite.com
Josh Feldman - Senior Editor