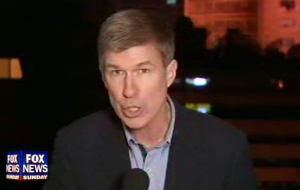 Earlier today we reported on the attacks of Fox News journalists Greg Palkot and video journalist Olaf Wiig that sent them both to the hospital with "fairly grave" injuries . Mediaite has learned that upon being rushed the hospital, Palkot and Wiig were both detained by military police and accused of being Israeli spies. A source with knowledge of the situation says that Palkot was blindfolded throughout the ordeal.
It was an exceptionally nerve wracking 24 hours at Fox News, according to our source, with a flurry of calls being made behind the scenes as a small team of executives were on pins & needles throughout. We're told both Palkot and Wiig have been in touch with executives there who were relieved to hear their voices, although both are said to be extremely shaken and are only operating on adrenalin at this point.
Upon discovering that members of their news team were in danger, executives at Fox News immediately contacted White House officials who quickly dispatched information to the State Department. Officials there got in touch with the embassy in Cairo and Egyptian ambassador in Washington, all of whom intervened to help secure Palkot and Wiig's release. Both Palkot and Wiig were let go this morning and brought to a safe, undisclosed location.
This is serious business; editors and managers at major news operations are going to have to start making some difficult calls about whether to pull their writers, video journalists and on-air talent from what has clearly become a perilous situation.
Fox News' response here stands in stark contrast to some other news networks who almost seem to be promoting the danger their journalists are facing. While we have repeatedly lauded Anderson Cooper's tireless and intrepid work in the field, the question remains whether CNN should have promoted that danger throughout the day and night yesterday, by releasing and promoting photos of Anderson Cooper being punched (which Mediaite did post.)
Mediaite has been told that Fox News' had placed the safety and well being of their journalists as the highest priority. The network only confirmed Palkot and Wiig's perilous experience after they'd been assured that both had been released from the hospital and were safe, 24 hours after the attack. According to a Fox News official, "We were more concerned with the health and safety of Greg and Olaf than doing press junkets….we'll leave that to others."
Have a tip we should know? tips@mediaite.com
Colby Hall - Founding Editor