Fox News' Greta Van Susteren Out-Journalisms CBS News on Florida Woman's Junk Insurance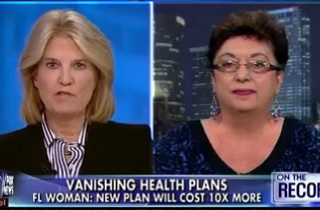 Earlier today, Newsbusters outclassed most of the mainstream media by being honest about Obamacare, and now, The Washington Post's Erik Wemple points out that Fox News has actually outclassed CBS News by partially correcting Jan Crawford's misleading report about a Florida woman who is unhappy about the new plan she's being offered under Obamacare, at ten times the price of her old plan. Slow clap for conservative media today.
Granted, the aforementioned outclassing occurred under the watch of the more independent-minded Greta Van Susteren, but Fox is Fox, it counts. As I reported yesterday, Crawford's report omitted loads of key information, including the fact that 56 year-old Dianne Barrette's old insurance plan barely even qualifies as insurance, paying only $50 toward most of the small list of covered services (Dianne pays the rest), and offering exactly zero coverage for hospitalization. Crawford also failed to mention that, based on her age and income, Barrette's new plan would actually cost her about $209 a month, not $591.
Greta teed up the interview using the same setup as Crawford's piece, that Barrette is "finding out she will have to pay 10 times as much for health insurance" because "she is losing her current plan to Obamacare."
"I have a copy of your Florida Blue insurance and it's about $54 a month," Greta continued, "and now I understand that under Obamacare, it's going to go up, at least they said that the policy they would offer you under Florida Blue, would be $591; is that correct?"
Actually, the plan BCBSFL was only one of many plans Dianne has to choose from, 10 of which are cheaper than that $591, and based on her income, she'd only pay around $209 a month, but Greta did cut right to the chase about the quality of her old plan.
"Your $54 a month policy is a pretty, you know, bare bones policy, "Greta said. "Why do you want to keep that one, except for the price? Maybe you can get something better with a subsidy?"
"Well, I know it doesn't cover lengthy hospital stays," Barrette replied, adding "It's perfect for what I want. I get co-pays for doctor visits and prescriptions. So it suffices what I need. Also, the price isn't too bad either."
Her $54 plan actually doesn't have copays for doctor visits and prescriptions. It pays $50 toward covered doctor's visits, Dianne pays the rest, and $15 toward prescriptions, Dianne pays the rest. As for hospitalization, Greta again went where CBS did not, and actually asked about it.
"Well, does it pay for any hospitalization, the current policy you have?" Greta asked.
"Again, I'm a little confused about it," Barrette answered. "I have been reading over and over the policies, and it appears that it does cover some outpatient, but when you go through the booklet they sent, it would say refer to this, refer to it but then refer back to… it was very confusing."
Actually, it doesn't cover any hospital stays, unless Dianne suffers complications from pregnancy. Then, it pays fifty bucks. It doesn't cover any outpatient care, except for mammography, osteoporosis screening, diabetes self-management, and complications from pregnancy. For that handful of services, the plan pays $50, and Dianne pays the rest.
Greta agreed that "Trying to figure out insurance is extremely confusing in the best of circumstances," but even without a shred of research, was able to tell that "your policy is like, you know, if you are walking across the street and someone runs a red light, you are in deep trouble under your existing policy."
Greta's right, health insurance is very confusing, and Dianne's plight probably wasn't helped by a plan document that lists the "amount member pays" in confusing fashion, giving the dollar amount the plan pays, and the member's liability as "Balance up to Allowed Amount." At a glance, it could easily be mistaken for a $50 copay.
Dianne told Greta that she still isn't sure how much she'd save with a subsidy, but that she's been getting lots of emails offering to help. "That's something I would like to look into," she said, because she's a consumer, not a reporter. Reporters are supposed to do that before they report things.
Greta sympathized, and made the legitimate criticism that the Healthcare.gov website is not the best place to get help right now, but again stressed that "You have a real stripped-down policy here, and I think you need to find someone who understands this stuff. It's pretty confusing, I concede."
In a news cycle that has seen the supposedly "objective" news media churn out misleading, false, and deliberately incomplete reports on the health care law, Greta's segment was the most honest reporting I've seen. Some more research would have been nice, but it's an interview program.
Wemple reports, though, that "Following her chat with Van Susteren, Barrette got word from a network producer that her appointment to appear this morning on Fox News was cancelled."
Here's the video, from Fox News' On the Record:
Have a tip we should know? tips@mediaite.com