Fox News Guest Denounces Hillary Party Pics: Is She Auditioning For Jersey Shore?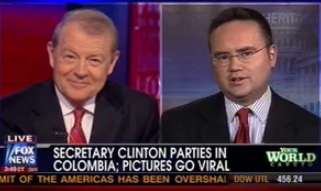 On Fox News, British conservative commentator Nile Gardiner lashed out at Secretary of State Hillary Clinton over the leaked photos of her drinking a beer and dancing in Cartagena, Colombia, calling it embarrassing for her to be "conducting herself in this way on the world stage at US taxpayers' expense."

"You do not approve of the Secretary of State having a beer and dancing?" Stuart Varney asked incredulously.
RELATED: Hillary Clinton Photographed Dancing, Drinking Beer In Colombia
"Hillary Clinton is a public servant. She's out there to serve the American people to advance US interests and I think that conducting herself in this way as a senior official on the world stage does not advance American interests in any way and in fact, is downright embarrassing," Gardiner opined. "It is as though she is auditioning for the 6th series Jersey Shore, rather than representing America on the world stage as the Secretary of State. And I do think that it is rather a bit much to expect the American taxpayers to be funding these kinds junkets. I cannot think of a single thing that Hillary Clinton or Barack Obama achieved in the entire Summit of the Americas. The only enduring images from the summit will be of Hillary Clinton partying away, late into the night in the capital city of Colombia; there's a real 'let them eat cake' mentality I think from the Obama Administration."
Varney jokingly told Gardiner to get a grip. "Aren't you reading a little bit much into Hillary Clinton's night out? Would you agree with the following rule, no senior public official must ever be seen in a bar, with a drink, and/or dancing, would you make that rule?"
"People working for the government are servants of the taxpayer, servants of American people, and they should conduct themselves in an appropriate manner and, of course, recognizing the fact that they are representing the American people on the world stage. All the pictures circulating around the internet of Hillary Clinton are downright embarrassing."
Republican strategist Dee Dee Benkie strongly repudiated Gardiner's criticism of Clinton.
"If anyone should have a drink [it's someone] who has gone through what Hillary Clinton has gone through in your public and private life. She was First Lady, she was US Senator, she was almost the Democratic nominee for President and now she is Secretary of State– you know, I think she deserves a few beers. And I think Niles [sic] needs a case of beer. Because he needs to back off! Really, is he even an American? If he isn't, he has no place to say anything."
Watch below via Fox News:

Have a tip we should know? tips@mediaite.com