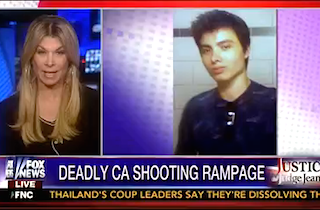 Much of Elliot Rodger's video and written manifestos pointed to a frustration over women not finding him attractive as motive for the killing spree he went on Friday night near UC Santa Barbara that left seven dead including himself. But according to one "expert" on Fox News this weekend, it was his "homosexual impulses" that may have driven him to kill.
Dr. Robi Ludwig, a psychotherapist and reality show host, said her theories about Rodger's motives began to evolve the more she listened to his disturbing rants. "When I was first listening to him, I was like, 'Oh, he's angry with women for rejecting him,'" she told Fox's Jeanine Pirro. "And then I started to have a different idea: Is this somebody who is trying to fight against his homosexual impulses?"
"Was he angry with women because they were taking away men from him?" she asked. "But this is a kid who couldn't connect, and felt enraged, and wanted to obliterate anyone that made him feel like a nothing." Seconds later, she added that even though she had never had a chance to diagnose him in person, she thought he might have had "early signs of schizophrenia."
When Pirro pointed out that Rodger's victims including men as well as women, Ludwig asked, "Was he angry at the men for not choosing him? This is a kid who was just angry in general and probably felt rejected, he couldn't connect, he couldn't feel loved, he couldn't feel successful. Maybe he didn't feel like a real man."
Following those statements, Pirro wondered why, with all of the apparent problems Rodger had, his school did not do more to alert authorities of his potential for violence. She did not ask why he was able to legally purchase three handguns and more than 400 rounds of ammunition.
Watch video below, via Fox News:
[h/t Raw Story]
[Photo via screengrab]
— —
>> Follow Matt Wilstein (@TheMattWilstein) on Twitter
Have a tip we should know? tips@mediaite.com