Fox Guests Battle Over Why Black GOP Senator Not Invited to Speak at MLK Rally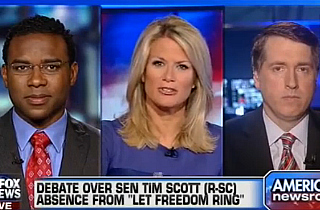 During Wednesday's "Let Freedom Ring" rally in Washington, D.C., many conservatives noticed that the country's lone black senator was not invited to speak alongside other notable black public figures like President Barack Obama, Rev. Al Sharpton, and the family of the late Dr. Martin Luther King, Jr. This morning, a Fox News panel got a bit heated over whether such an exclusion was justified.

Sen. Tim Scott (R-SC) was appointed to replace the recently-retired Jim DeMint, thus leading to pundits like USA Today's DeWayne Wickham to conclude that he was rightfully excluded due to his "appointed" status, rather than being an officially "elected" senator. Conservative critics have countered that he was excluded due to his conservative politics; which would have been presented in stark contrast to the vast majority of liberal speakers.
Progressive radio host Richard Fowler told Fox host Martha MacCallum that Scott was likely not invited because the march was "about more than race." He asserted that "this is about jobs and justice" and because the black Republican's "voting records both in the House and Senate don't speak to jobs or justice… he didn't get an invite."
Appalled at such a notion, National Review Rich Lowry countered that the event was "supposed to be a national commemoration of a great national event, and the reason why we remember the march is not because you had a lot of people there talking about more government activism or more jobs programs, it's because you had an effort to return the country to its founding ideals to achieve basic justice when it came to civil rights."
MacCallum herself got a bit snarky, interrupting to play a clip of actor Jamie Foxx speaking at the rally, adding, "I'm not sure what he's done to create jobs in the country either, but let's listen to what he says."
Fowler replied that even at the original "March on Washington" 50 years ago, "there was a lot of star power there, and we know that star power helped push the movement forward." Lowry countered that the event really just came down to "a liberal democratic celebration of liberal democratic activists and liberal democratic celebrities."
"It was really wrong," he concluded.
Watch the segment below, via Fox:

— —
>> Follow Andrew Kirell (@AndrewKirell) on Twitter
Have a tip we should know? [email protected]