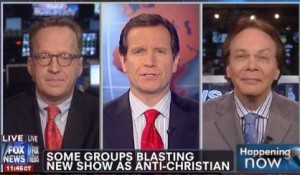 We really have nothing important to talk about in this country, so why don't we spend a lot of time chatting about a trashy ABC show? Yes, it's Desperate Housewives moved into the South: GCB. It's a show so heinous and anti-Christian, it's become a talking point in a presidential campaign. On Fox News today, liberal radio host Alan Colmes and conservative columnist James Pinkerton debated whether or not the show presents a negative portrayal of Christians.
RELATED: Newt Gingrich Blasts New ABC Comedy 'GCB' For 'Anti-Christian Bigotry'
Host Jon Scott summed up the show as focusing on "salacious gossip surrounding some affluent Texas socialites." Colmes opened by arguing that this is not the latest show where religion is a primary focus of the narrative; HBO's Big Love comes to mind. Colmes also brought up the now-cancelled TLC show All-American Muslim that portrayed a typical Muslim family living in the United States, and it was criticized by some Christian conservatives for making the show too positive.
After explaining that the show's original title was "Good Christian Rhymes With Witches," Scott asked Pinkerton if he agreed with Gingrich's sentiment that the media is perfectly happy to portray Christians in a negative light, but not people of other faiths, like Muslims. Pinkerton agreed, saying that "no other religion, aside from Mormons" would get this kind of treatment in the media. He suggested an idea for a show called All-American Christians, because if there's one thing we don't know in this country, it's whether or not Christians are decent human beings.
Colmes sympathized with the objections people have raised about the show, but it's possible to have a show that might not necessarily portray a group of people in purely positive light, but doesn't go out of its way to make negative stereotypes about them. He cited The Book of Mormon, the entertaining Broadway show, as an example of this, because even though the show does poke fun at the Mormon faith, both Matt Stone and Trey Parker described it as an "atheist love letter to religion."
Scott professed his love of lead actress Kristin Chenoweth, and played a clip of her defending the show on Fox & Friends. Chenoweth said she's a devout Christian who would never make fun of someone's religion, but she is okay with "having fun with" it. Pinkerton didn't buy that explanation, and added that another eyebrow-raising part of the show, what the "B" in the title stands for, is remarkable, considering the backlash Rush Limbaugh got when he used negative language about a woman a few weeks ago.
RELATED: The Media And Obama Handle Christianity Poorly – According To One Atheist
You guys, you're all glossing over the most important point here: whether or not GCB is anti-Christian is not, it's a cheesy soap opera! Don't we have enough of those on TV to begin with? I love Pushing Daisies, so I will defend Kristin Chenoweth's acting chops any time of the day. But this over-the-top network show shouldn't be worthy of controversy to begin with.
Watch the debate below, courtesy of Fox News:
Have a tip we should know? tips@mediaite.com
Josh Feldman - Senior Editor