Fox News Guests Get Heated Over Bill That Would Make English The Official U.S. Language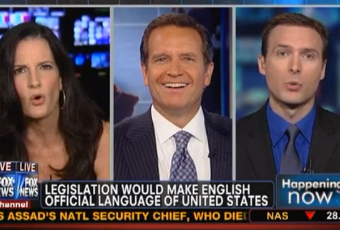 Fox News reported today that the House Judiciary Committee will hear legislation proposed by Rep. Steve King (R-IA) to make English the official language of the United States. During Tuesday's edition of Happening Now, co-anchor Jon Scott played host to a debate between Young America's Foundation vice president Kate Obenshain and veteran Democratic consultant Ryan Clayton, with the latter asking whether Rep. King's law would mean police would have to "throw [violators] in the gulag because they haven't learned English?"
"Would it be a bad thing if English were named the official language of the United States?" Scott asked Clayton, after the consultant shook his head in disapproval throughout the host's description of Rep. King's bill.
"America is different than most countries throughout the world who are built around a shared language, or built around a shared religion, or built around a shared geography. America is a nation of values founded on an idea that all men and women are created equal…. How we treat new immigrants really reflects our values that define us as Americans. We believe that families should stick together, and that we should look for each other."
"I actually think that was a beautiful defense of having English as the official language," Obenshain responded. "We are a nation that's built around a common value… and a common language. Of course, we welcome immigrants from all over the world, but there's an understanding that in order to assimilate, and to have the same chance at the American dream that other Americans have, you need to learn English."
She continued on to explain that the left perpetuates a "myth that we're just going to let anybody speak any language they want, and the federal government is going to have to accommodate that in any way, spending billions of dollars to do it… it robs people of their real chance for prosperity. But the left is very good at pinging this very reasonable measure that 87% of Americans agree with as, for some reason, un-American."
"So what's the practical import of this law?" Clayton interrupted. "I mean, what are you going to do? Lock up people for speaking Spanish? Are you going to throw them in the gulag because they haven't learned English?"
"Wow, really? Is that how you're going to have an intellectual discourse?" a shocked Obershain shouted back at Clayton.
"I just want to know what this law does to people who don't speak English," he responded.
"Did you not read the legislation?" Obershain fired back. "You know very well you're just injecting fear into what should be a reasonable intellectual discussion between two Americans who have the same sort of values. Nobody's talking about throwing anybody in jail. What we're talking about … is a very reasonable expectation that if you want to become an American citizen you need to understand the language, you need to be able to read some of our founding documents you so beautifully quoted."
Obenshain, a former Republican Party state chairman, continued on:
And why shouldn't we have this basic understanding of what it is to be an American? Why shouldn't all Americans understand their presidential candidates and what they're saying? Why shouldn't students in our classrooms have the same opportunity at success instead of being shuffled over to bilingual education, keeping them there for years instead of immersing them in our common language so that they can succeed?
"Isn't it already a requirement that if you want to take the Oath of Citizenship, you're supposed to know English?" Scott challenged the Democratic panelist.
"Hardly," muttered Obershain as Clayton responded:
This conversation is really about immigrants and how we treat them when they come to our country. And the same is true today as it's been throughout history: people move to make life better for themselves and their families. They come here to put food on the table … and they come here to work hard and make a better life. … I think as Americans we need to welcome people that come to our country. And one of the values that we hold dearest to our heart is the the belief in freedom to be who you want to be, no matter what you look like, to say what you want to say in any language, and to go where you want to go. America's supposed to be the land of the free and the home of the brave… so I think we should keep it that way.
"A common language unifies us," Obenshain retorted. "Right now America is split in so many different ways… We need a sense of unity, of purpose."
Check out the segment below, via Fox News:
>> Follow Andrew Kirell (@AndrewKirell) on Twitter
Have a tip we should know? tips@mediaite.com