Fox News Guest Fuels Trump Conspiracy That Anti-Kavanaugh Protestors Were Paid (UPDATED)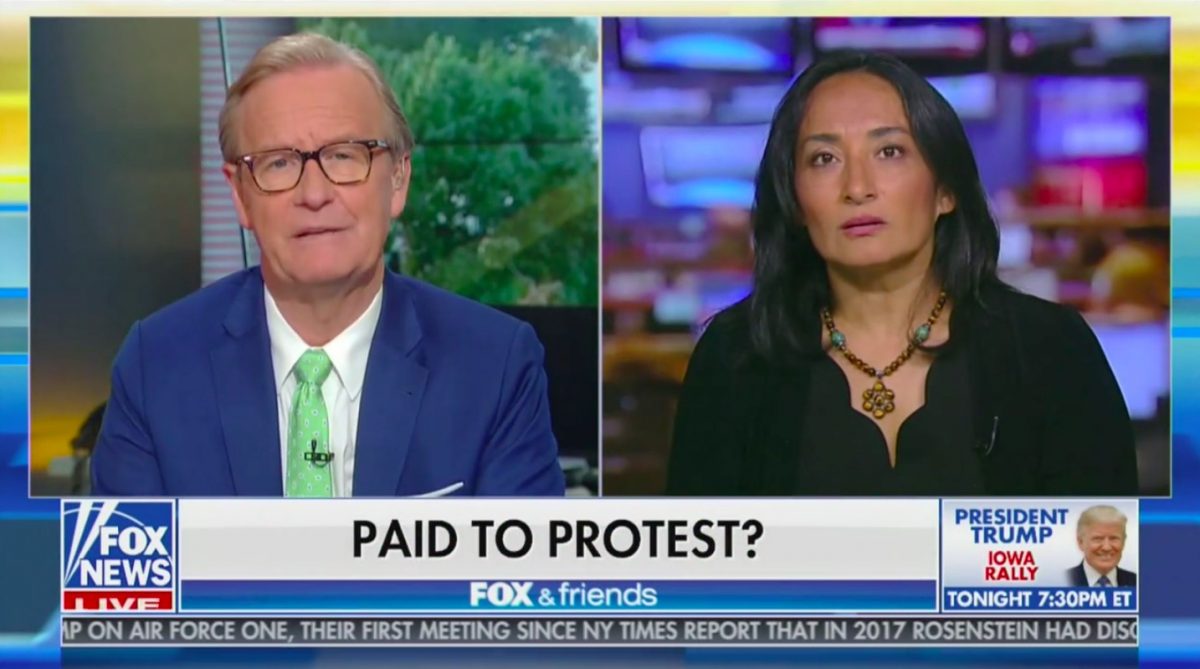 "The paid D.C. protesters are now ready to REALLY protest because they haven't gotten their checks – in other words, they weren't paid!" President Donald Trump tweeted Tuesday morning. "Screamers in Congress, and outside, were far too obvious – less professional than anticipated by those paying (or not paying) the bills!"
The paid D.C. protesters are now ready to REALLY protest because they haven't gotten their checks – in other words, they weren't paid! Screamers in Congress, and outside, were far too obvious – less professional than anticipated by those paying (or not paying) the bills!

— Donald J. Trump (@realDonaldTrump) October 9, 2018
Like many of his incendiary tweets, this one appears to have been inspired by Fox News.
Asra Nomani, who wrote an op-ed tracking the money behind the anti-Kavanaugh protests for the Wall Street Journal, appeared on Fox & Friends Tuesday to discuss her piece.
Nomani's article for the Journal — George Soros's March on Washington — outlined the money ties between the left-wing billionaire and groups protesting Brett Kavanaugh's Supreme Court confirmation, suggesting something sinister about organized protests.
She went on Fox & Friends to reveal what she found…as a chyron blared "PAID TO PROTEST?"
"The president has referred to these people — some of them — as being paid," Fox News host Steve Doocy said. "Were they?"
"Well, on the onset, because people have sent me lots of messages that they're waiting for their check, a lot of sincere people are protesting," Nomani said, apparently inspiring our Trump tweet.
When reached for comment, however, Nomani initially told Mediaite that her line about protestors "waiting for their check" was sarcastic. She then clarified that she misunderstood the question, and issued a statement (see below).
On Fox & Friends, she went on to say: "I followed the money for the last two years ever since #Resistance emerged the day after Trump was elected, and the money leads us back to, not a surprise I know to a lot of people, but George Soros and his philanthropy empire."
"It's not the individual protestors that are getting the money," she said (emphasis mine). "But it is the organizations that are running these protests.
Watch here:
Trump decried the protestors as "paid professionals" last week — that time likely inspired by Fox's Maria Bartiromo — claiming that their signs were paid for by Soros, a frequent boogeyman of the far-right.
That was quickly debunked as a stock-standard Soros conspiracy theory. The protests, like most protests, were organized. Some of the groups that planned protests were funded in part by Soros's foundation. But Soros did not pay protestors directly, nor did he puppet-master any anti-Kavanaugh protests.
UPDATE: Nomani clarified that she "misread" a request for comment from Mediaite. She provided a statement explaining her comments:
There are credible individuals who have told me they are waiting to get paid because they are professional protestors. As I wrote in my column, most individual protesters are not paid but my point is a different one that is even more worrisome: the protests are not organic. They are the result of an orchestrated effort by a network of nonprofits and lobbying groups many of which have received millions of dollars in funds from the George Soros philanthropy empire.

Nobody is handing out envelopes with rubles inside but President Trump is correct in his wider analysis that the #resistance movement is not a "spontaneous" protest but a well-funded, carefully-staged series of "direct actions" planned and promoted within the Democratic machine, with lobbyists receiving six-figure salaries and some professional protestors paid for their services. We should have our eyes wide open, as we look to the right and to the left.
Have a tip we should know? tips@mediaite.com
Aidan McLaughlin - Editor in Chief