Fox News' Hannity Leads January in Total Viewers, MSNBC's Maddow Tops in Key Demo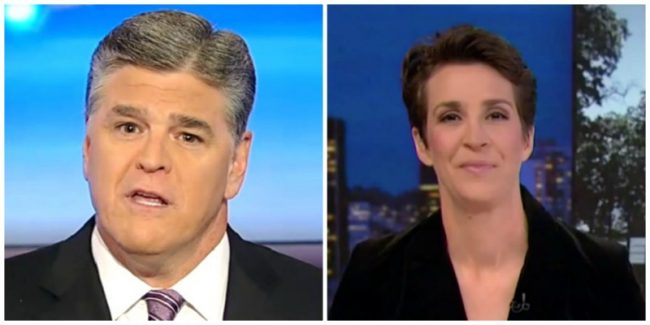 January provided good news on the ratings front for all three of the major cable news networks. While Fox News led the way in total day and primetime viewership across the board, CNN posted solid gains for morning program New Day and MSNBC could pat itself on the back for the performance of The Rachel Maddow Show and The Last Word.
According to Nielsen, Fox News averaged 1.494 million overall viewers in total day while pulling in 308,000 in the key 25-54 demographic. MSNBC finished second in total viewership (1.001 million) while placing third in the demo (224,000). CNN captured 713,000 total viewers and grabbed a demographic audience of 237,000.
For total day (Monday – Sunday), Fox News ranked first in all of basic cable in overall viewers. MSNBC ranked third in cable in total viewers while CNN came in 8th. Also, it should be noted that January marked 16 straight years in which Fox News was the most-watched cable news network.
In the 8 PM to 11 PM primetime slot, Fox News was number one in cable news in both total viewers (2.456 million) and the 25-54 demo (476,000). MSNBC finished second in both metrics, nabbing 1.862 million overall viewers and 412,000 in the demo. CNN attracted a total viewership of 927,000 and a demographic audience of 329,000. Fox News finished second in basic cable in primetime total viewership while MSNBC came in third.
For individual programs, Fox News' Hannity was able to lay claim to most-watched cable news show as it pulled in a total audience of 3.269 million. The Fox show was the runner-up in the demo with 660,000, finishing second to The Rachel Maddow Show (678,000). Fox's Tucker Carlson Tonight snatched the bronze in both metrics, averaging 2.982 million total viewers and 597,000 in the key demo. The Last Word was fourth overall in the demo with 518,000.
While ratings year-to-year were understandably down for both CNN and Fox News due to those networks' coverage of last year's inauguration, MSNBC showed amazing growth from January 2017. Compared to last year, MSNBC saw a 61% gain in primetime total viewership and 51% in the demographic. The network also enjoyed double-digit growth in its total day audience.
CNN noticed strong growth for morning staple New Day as the show saw a 38% gain the 25-54 demo year-to-year and 21% growth in total viewers. The Van Jones Show had a muscular debut on January 27, snatching 217,000 demo viewers during its Saturday evening debut, easily outpacing MSNBC in the time slot.
[image via screengrab]
—
Follow Justin Baragona on Twitter: @justinbaragona
Have a tip we should know? tips@mediaite.com