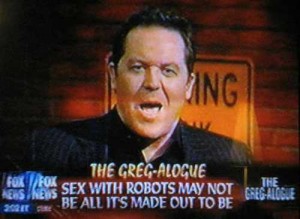 Red Eye is many things to many people. Well, to an average of 341,000 viewers in July 2009. Many on the political right celebrate the show as a conservative answer to the likes of The Daily Show, though the show's political and comedic leanings are more zoo crew than Savage Nation. A large chunk of the show is dedicated to riffs, rants, and in-jokes, often with a skeptically libertarian spin, i.e. "Red Eye fact: Obama is the most awesome man alive." Drudge lieutenant Andrew Breitbart is reportedly a big fan; when the Canadian government went after Red Eye over some controversial remarks about the Canadian military (Gutfeld later apologized), he penned a letter to the Washington Times in support of the show.
The show's other big constituency, not surprisingly, is people who are up until 3 AM. "Being on late also means you're only recognized on the street by musicians, bartenders, flight attendants and table dancers," Gutfeld said in an e-mail. "These are the people who make the world go round."
Whatever their denomination, many would allow that Red Eye is the best show on at 3 AM, if only because its competition consists of Jimmy Fallon and Roseanne reruns. But it's also the best music show on TV.
MTV and VH1 are, sadly, out of the running. Whether or not the move towards Date My Mom and Charm School with Ricki Lake heralds the end of Western Civilization, as some contend, the fact is that cable music channels long ago became reality TV channels that air music videos. Late-night (but not 3am-late) talk shows would be next in line to the throne, but their guests are hit-or-miss, often determined less by taste or cohesion than by well-connected publicists and album release schedules. American Idol has emerged as a national pastime, but there's not a whit organic about it: amateurs perform, but the show is a kabuki of carefully orchestrated celebrity appearances and highly sculpted storylines.
For the most part, Red Eye's musical guests reflect the quirky, excellent taste of Mr. Gutfeld: Mark Prindle, a music blogger who recently appeared on the show, said that Gutfeld picks many of them out himself. Many come from the lionized but vaguely remembered worlds of 80s punk, metal, and alt-rock, characters like Johnny Rotten and Bret Michaels and X's Billy Zoom. There are a few young 'uns: Gen X gets Pavement frontman Stephen Malkmus, and Gen Y gets Electric Six's Dick Valentine. Terrifying GWAR creature Oderus Urungus has lately been serving as the show's intergalactic correspondent:
Less important than who these guests are is what the show does with them. Red Eye usually airs clips of their performances, but these seem almost deliberately crappy, shot from odd angles in off lighting. In short, they're great. The musicians are asked questions, weird questions, not the chummy "so tell me about the party that we both went to in the Canary Islands" or "what do you think of my haircut" questions that sod down network talk shows — and they are allowed to talk. "I enjoy musicians because you rarely see them interviewed, and they are often smarter than most pundits," Gutfeld said by e-mail.  It helps that they tend to be older musicians in their second acts with nothing to lose. But the show's vibe is key.
Red Eye is sometimes offensive and sometimes inane, but it has a life and vibe of its own, and it does musicians the rare dignity of approaching them as people rather than as brands. Its odds of blowing up seem limited. The kind of people who like the guests often don't like Fox, and the comments sections of so many Red Eye videos tend to say things like "fox news is generally atrocious but this show is great!" or "I hate Fox but GWAR I don't hate so it balances out." Mark Prindle argues, "I don't think [Red Eye] would be more popular on a different station, because Fox News attracts the viewers most likely to appreciate their special brand of liberal-bashing. On any other station, they'd likely just be hated by more people." And at 3am, a small audience seems foredoomed: there are only so many musicians, bartenders, flight attendants and table dancers.
But there are worse things than being a cult classic. Much like a velociraptor, it could be that Red Eye gets the interesting scraps abandoned by others because it is small and underfed, and it might not be a bad thing if it stays that way.
Have a tip we should know? tips@mediaite.com