Fox News' Napolitano: Students Suspended For 'Tebowing' Would Have Been Protected If Bow Was To God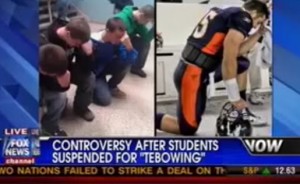 Every time Denver Broncos quarterback Tim Tebow scores a touchdown, he drops to one knee and bows his head to his hand, a phenomenon that has come to be known as "Tebowing." It's sparked a nationwide craze, much like the equally-annoying Planking movement from this summer. But a group of Long Island high schoolers have found out the hard way that Tebowing isn't always without consequences.
According to Selim Algar and Leonard Greene of The New York Post, twin brothers Tyler and Connor Carroll were hit with one-day suspensions for organizing a Tebowing display in the school hallways:
Administrators said the weeklong "Tebowing" craze was a distraction and a hallway hazard after dozens of classmates followed their lead.
According to the Post, about 40 students participated in the Tebowing prank at its height of prankster popularity.
RELATED: This Exists: California Teen Caught In Chimney After Trying To Sneak In After Curfew
Judge Andrew Napolitano, Fox News Senior Judicial Analyst, joined America's Newsroom to discuss the suspensions, and, after FNC showed a clip of Tyler Carrol, who is a football player, saying they did it to honor Tim Tebow, Napolitano explained that the twins would have benefited from changing their story ever-so slightly:
"If he had said we did this because we wanted to thank God for our victories, or pray to God for a victory, then the behavior would be almost absolutely protected under the First Amendment as the free exercise of religion."
He went on to say that since they were just doing it as a prank, they had every right to be suspended.
Watch a clip of the brewing controversy below, courtesy of Fox News:
Have a tip we should know? tips@mediaite.com