Fox News Hits Romney For Taking 'Complete Pass' On Libya, Praises His Presidential Behavior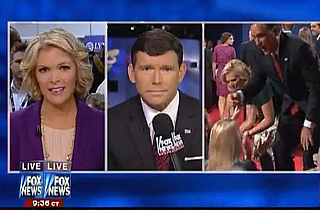 The focus of Fox News' immediate post-debate reaction was largely on Republican candidate Mitt Romney's "complete pass" on attacking President Obama over his administration's handling of the attacks on the U.S. consulate in Libya, the GOP candidate's struggles to distinguish his foreign policy positions from Obama's, and Romney's presidential behavior.
Co-anchor Bret Baier began the post-debate coverage noting that while the first question of the night was focused on Libya, "the fireworks predicted on that topic never materialized" and "Governor Romney did not press the administration's handling of Libya." Baier also noted that, in several instances, Romney "struggled to put distance between his policy and Obama policy" on issues like dealing with Syria.
Megyn Kelly agreed that Romney seemed to struggle at putting a distance between himself and the president, and she agreed with Baier that the GOP candidate "took a complete pass on Libya."
Even liberal commentator Joe Trippi hit Romney for how he "literally walked away from the question without really engaging" Obama on the administration.
Trippi also called the debate "the big hug" because of how much he felt Romney tried to agree with Obama on policy after policy, possibly as part of a "strategy to not let Obama paint him as the reckless guy who is going to take the country to war."
Conservative panelist Stephen Hayes agreed with his liberal counterpart, noting that it was "striking" how Romney "tried to be presidential bipartisan, sort of above the fray in obviously an effort not to sound like George W. Bush. And the result, I think, was that in this effort not to sound like George W. Bush, he spent a good part of the night sounding like Barack Obama."
Chris Wallace added that if "I had been on the desert island for the last four years and I had just been parachuted into this debate, I would have thought the guy that had turned out to be Mitt Romney was the president protecting a lead and that Barack Obama was the challenger trying, somewhat desperately to catch up."
Watch the full segment below, via Fox News:
— —
>>
Follow Andrew Kirell (@AndrewKirell) on Twitter
Have a tip we should know? [email protected]