Fox News Host Compares Ending Discrimination With Ethnic Cleansing and Genocide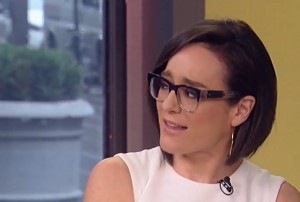 There's a particularly popular premise that's unique to a segment of the conservative media, and it was on brilliantly dim display Wednesday on Fox News' Outnumbered. Variations on the theme that liberals are the real bigots for being bigoted against bigots are a staple of social conservatism, but rarely has it been cut and faceted so perfectly as it was by former MTV VeeJay Kennedy, who compared actor Will Smith's call to "cleanse" our country of bigotry with campaigns of ethnic cleansing and genocide that are fueled by the bigotry that Smith was targeting with his remarks.
Don't say that you're going to purge or cleanse the country. You know, for people who have left other places on Earth where certain ethnicities have been purged and cleansed? Or people who disagree with those in power, have been purged and cleansed. It is a dangerous thing to say.
Kennedy went on to quip that "The Dixie Chicks can eat a bag of Dixie, as far as I'm concerned," which prompted an angry call-in from 2003, who demanded the immediate return of its joke.
Kennedy is, of course, taking Smith's words out of context, because although his comment could be taken, in isolation, to mean the elimination of Islamophobia and bigotry, he explicitly says he's referring to a healing moment that leads to "understanding." But even without additional context, Smith's remark is plainly about eliminating bigotry, and so even if you defend the rights of bigots against Will Smith being mean about them, on principle, for some reason, it is uniquely sick to compare them to the rights of people who are murdered because of bigotry.
This is an opinion piece. The views expressed in this article are those of just the author.