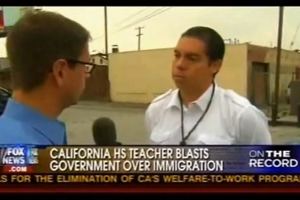 Here's something you won't see every day: A man declaring himself an avowed socialist and calling for revolution, a la Latin America, after calling for a revolt against "racist white people"– on Fox News. The man is Santee High School teacher Ron Gochez, and he is an Arizona schoolteacher accused of inciting armed rebellion. As a response to the bad press, Fox News' Griff Jenkins gave him an extensive interview to clear up his name and ideology.
Jenkins barely interjects in the 7-minute-long piece, only asking about three questions to direct the conversation. Meanwhile, Gochez– who became an internet sensation of sorts for a YouTube video in which he protests the Minutemen and opponents of illegal immigration– clears up, repeatedly, that he is not in favor of violence, and does not teach revolution in the classroom:
"Historically, the two things that have been the biggest enemy of our communities and all communities of color, specifically, is capitalism and imperialism… For those people that are saying that I'm indoctrinating students or that I'm teaching this– no. I'm a professional, in the classroom I do what I have to do and teach my kids. Outside of the classroom, it's a totally different story."
He added that he is "a socialist. I believe in socialism, and I believe that's happening all over the continent and that's what I support and I will never back down from that." Jenkins did not pressure him on this issue, only once noting that his views made it seem like he was anti-American, in general. Gochez even thanked Fox News for the platform and the ability to clear up the fact that he doesn't think all white people are racism (though he does hate capitalism, "but do I say that in my classroom? No.").
This interview has a clear message, courtesy of Griff Jenkins: Anyone who has ever accused Fox News of not living up to their "Fair and Balanced" motto is going to have their hands full with this segment. How do you explain a man calling for socialist revolution, barely interrupted, for nearly eight minutes on Fox News? Not that Jenkins was nodding approvingly, but the discussion, considering the extreme nature of Gochez's beliefs, was shockingly civil.
Video below:

Have a tip we should know? tips@mediaite.com