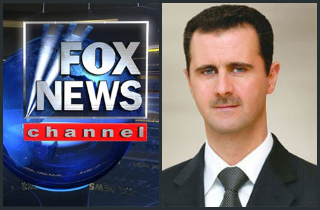 WATCH: Assad Tells Kucinich Chemical Weapons 'Not a Secret Anymore' During Wide-Ranging Fox Interview
As we reported Tuesday afternoon, former Rep. Dennis Kucinich (D-OH) had been spotted interviewing Syrian President Bashar al-Assad. Those reports have proven correct, as Fox now confirms the interview will air tonight during a two-hour special edition of Special Report with Bret Baier.
The lengthy interview, conducted by both Kucinich and Fox's senior correspondent Greg Palkot, will run from 6:30-7:30 p.m. ET, followed by a half-hour panel analysis featuring Special Report regulars like Stephen Hayes, Charles Krauthammer and Juan Williams.
In a statement to the press, Fox's EVP of News Michael Clemente explained the interview's backstory:
"On Saturday, Sept. 7, FOX News contributor Dennis Kucinich advised me that he believed he could secure an interview with Syrian President Bashar al-Assad, whom he had met on previous occasions. At the time, it appeared that an American military attack on Syria was imminent, and I decided that Kucinich should pursue the interview, on condition that FOX News journalists would also be included. We were presented with an opportunity for access to a volatile part of the world and felt that footage of Assad speaking would be of unique news value."
He continued:
The interview, shot by agreement by a Syrian camera crew, was conducted with no restrictions on the questions that could be asked. FOX News Senior Foreign Affairs Correspondent Greg Palkot, a veteran of Middle East coverage, conducted the interview beside Kucinich, and I was present in the control room and studio at the Presidential Palace in Damascus for the duration. Kucinich was not there in the capacity of a journalist nor was he representing FOX News in that role.
Palkot and Kucinich's interview will be only the second one conducted with Assad since the crisis became a focus of international news. CBS' Charlie Rose sat down with the Syrian president more than a week ago.
Stay tuned tonight, as Mediaite will have full coverage of the interview.
UPDATE: Earlier this afternoon, the Syrian Presidency official Twitter posted this photograph, with caption "#President al-Assad gives an #interview to American Fox News channel, to be broadcasted on 01:00 am – Damascus":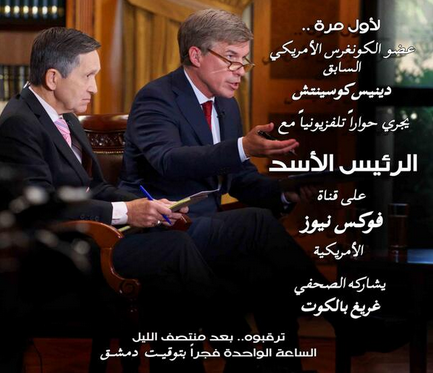 UPDATE #2: Watch video of Kucinich's Fox News interview with Assad below:
— —
>> Follow Andrew Kirell (@AndrewKirell) on Twitter
Have a tip we should know? tips@mediaite.com