Fox News Invites Catholic League's Bill Donohue To Review Lady Gaga's 'Latest Blasphemy'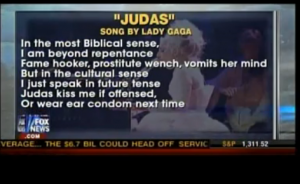 On America Live this afternoon, interim host Martha MacCallum discussed what she referred to as Lady Gaga's "latest stop on the blasphemy train." Basically, the singer chose Holy Week – as in, the single holiest week for many Christians – to release a song ostensibly about her love for Judas, the apostle who turned Jesus over to authorities to eventually be crucified.
MacCallum brought on Bill Donohue of The Catholic League to talk about the song and the interesting timing of its release.
Donohue was careful to note that he didn't think Gaga's song was going to "corrupt kids" or bring down the Catholic Church, he was just tired of artists using Catholicism as a means of being provocative and seems to believe Gaga has the talent to produce good music without having to do this. (It's a subject I touched upon in a post about a FoxNews.com article on the fashion industry's seemingly recent preoccupation with burqas.) Then MacCallum and Donohue offered a criticism that cuts pretty deep: Madonna's already done it. Therefore… Yawn!
Although with lyrics like "Jesus is my virtue / Judas is the demon that I cling to," an argument could be made that the song isn't about bashing Jesus or His followers, per se, but… I don't know, how tough it is out there for an extraordinarily rich former Catholic schoolgirl.
Take a look at the segment, via Fox News, and let us know what you think of the song. Is it catchy? Clever? Offensive… or maybe just offensively bad?
Have a tip we should know? tips@mediaite.com