Fox News Jabs MSNBC's "Lean Forward" Campaign With Their Own "Move Forward" Promos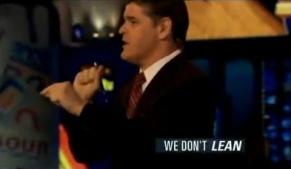 MSNBC has just started what will become their biggest branding campaign in network history, and you're probably seeing a lot of "Lean Forward" all over TV, print and the web.
Fox News is using this as a chance to take a jab at the rival cable news channel – proclaiming in new promos that we noticed last night, "we don't lean," instead they "move forward."
Both ads, one featuring Fox News personalities and the other more conceptual (and similar in tone to Spike Lee's conceptual promos for MSNBC), are more fast moving than MSNBC's "Lean Forward" ads. "News breaks at a blistering speed," says the voiceover that kicks off promo #1. "As the story that moves forward, we're right there. Pushing the limits."
So what doesn't Fox News do, movie trailer guy? "We don't stand around, we don't lean against a wall, we break the wall down," says the voiceover. "We move forward."
The second one kicks off with "America is not a nation of wallflowers" and continues briskly moving forward, through images of Martin Luther King, Jr., 9/11 and Sandy Koufax toward the lean-reference: "In this country, we don't stand still, we don't lean, we move…forward."
The subtle reference to MSNBC insures it won't be seen as a petty attack ad, but the connotation is obvious. Is it easy? Sure. But with Jon Stewart getting in on the joke, it was only a matter of time before Fox News leaned into poking MSNBC. Now when will their Parker Spitzer ad come out?
Here are both new ads:


—–
» Follow Steve Krakauer on Twitter
Have a tip we should know? tips@mediaite.com