Fox News' Jana Winter's Struggles Shows It's Time for a National Media Shield Law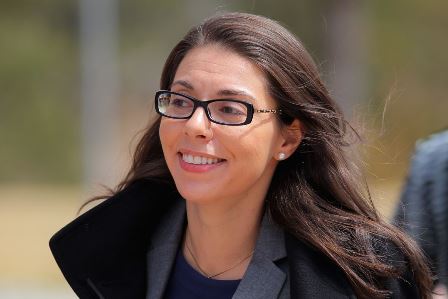 After Aurora, Colorado movie theater shooter James Holmes was arrested, a source described to Fox News reporter Jana Winter passages in a notebook that Holmes sent his psychiatrist five days prior to his murderous rampage. She reported on those descriptions. For this offense, Winter may go to jail.

On Tuesday, Winter's attorneys argued before New York State's highest court, asking them to overturn a narrow lower court decision which would compel the Fox News reporter to testify in Colorado about who described Holmes' notebook to her. Winter's attorneys argue that forcing her to go to Colorado, a state with a media shield law that is significantly less robust than New York's, would violate the spirit of the Empire State's legal protections for reporters.
Colorado prosecutors argue that Winter was complicit in the violation of a gag order imposed on those with information relating to the Holmes case. While she is protected from a contempt citation in New York if she refuses to reveal those sources, the law in Colorado is far vaguer. It is entirely possible that Winter may face prison time for her role in the reporting of this story.
Winter's case should reignite a dormant debate over the need for a national shield law; one that would serve as a guide to states for how to protect reporters from legal intimidation.
"It would really take the guts out of it," Winter's attorney, Dori Hanswirth, told Mediaite when asked what kind of precedent it would set if the New York Court of Appeals fails to protect Winter from having to testify in Colorado. "Because it would mean that, contrary to the strong free speech policies that are embodied in the shield law, a New York court could actually have a hand in forcing a journalist to disclose confidential sources."
RELATED: Fox Reporter Jana Winter Hopes to Avoid Jail for Protecting Sources in Testimony Before NY Court
The implications, therefore, of the Winter case are broad and far-reaching. Shield protections for journalists vary greatly from state to state. Should Winter lose her appeal, it would signal that one state can, in effect, undermine the shield laws of another state.
While President Barack Obama supported a uniform national shield law during his 2008 presidential campaign, his interest in reporters' protections has waned since. Following the scandal surrounding the Department of Justice's subpoena of the phone records of Associated Press journalists and the tracking of the movements and communications of Fox reporter James Rosen, a fire was again lit under the issue of protecting journalists (and their sources, by extension) from facing prosecution. After these scandals broke, Obama made it clear that he does support the principle of extending legal protections to reporters to shield them from intimidation.
Applause erupted following the passage of the "Free Flow of Information Act of 2013" out of a Senate committee in September, but that renewed push for a national shield law has since stalled. Even after it passed in committee, reporters and political observers alike registered serious objections to some of its provisions.
National security reporters expressed frustrations over how weak the proposed law was. Some lamented that no law would ever be crafted that exempts defense and foreign affairs reporters from having to reveal sources which provided them information relating to a national security case. Civil libertarians also recoiled at a provision in the law which would require defining who exactly is a journalist in order to ensure they become a protected class.
But some reporters with an intimate knowledge of why shield laws are critical disagree with these objections. Former New York Times reporter Judith Miller spent 85 days in jail in 2005 after a judge declared that she was "defying the law" by refusing to divulge the name of a confidential source with whom she was said to have discussed the identity of CIA agent Valerie Plame, wife of Bush administration critic Joseph Wilson. After she was released from prison, Miller voluntarily testified about the incident when her source waived his right to the confidentiality Miller had promised him.
Miller says that now, more than ever, a national shield law is critical to ensure that Americans are well-served by the institution of journalism.
"About 80 percent of the subpoenas issued to journalists have nothing to do with national security," Miller told Mediaite. "A shield law would prevent the government from forcing journalists in such cases to reveal their sources."
Miller added that the issue of "licensing" journalists has been blown out of proportion by those concerned with how the government may abuse this practice. "Do you not accept White House press passes?" she asks. "Or State press passes or NYPD press pass? That's a virtual license, right?"
She adds that the current working definition contained within the "Free Flow of Information Act of 2013," which defines a reporter as one who spends the majority of their time practicing journalism and would include many bloggers.
"So often people refer to it as media shield law," Miller continues. "It's a source protection law." She adds that the scandals surrounding the DOJ and the National Security Agency have already had a "chilling effect" for reporters seeking sources of information.
Restoring some of the faith that potential sources have in journalists' ability to keep their identities confidential is critical. Restoring journalists' belief that they can perform their duties free from the fear of intimidation from the state is a central American principle.
2013 has highlighted how dangerous it has become to freely practice journalism in the United States. It is an imperative that Congress ensure that all reporters are free to practice their craft. It may be too late for Jana Winter, but the next tragic persecution of a reporter for doing their job can be averted. It's time for this government to act to protect America's tradition of a free press.
[Photo via Fox News]
— —
> >Follow Noah Rothman (@NoahCRothman) on Twitter
Have a tip we should know? tips@mediaite.com