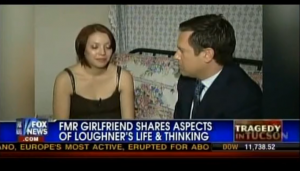 Fox News was able to interview a former girlfriend of Jared Loughner, the man awaiting trial for the weekend's shooting outside a Tuscon, Arizona Safeway which left six people dead and Congresswoman Gabrielle Giffords with a gunshot wound to the head. She shed some light on the background of one of the most talked about men in the country, and offered some information that seemed to be at odds with other things we're learning and speculating about the 22-year-old shooter.
Ashley Figueroa spoke briefly about Loughner's (Former? Current? Is it even a factor in his crime?) drug use, sharing that he had smoked marijuana and took hallucinogenic mushrooms. She also shared that he had a strained relationship with his parents, who evidently did not want her visiting their home. In fact, she believes his problems stem from his difficult relationship to his parents.
But perhaps the bit of information that will cause the biggest stir is her revelation that she doesn't believe Loughner is mentally ill, as some in the media have begun to suggest. Instead, Figueroa believes that her ex-boyfriend is "faking" being insane in order to avoid prison time. The question, then, is whether her statement – and those of other people who profess to know Loughner – will have any impact on his trial. Additionally – contrary to other accounts of Loughner – Figueroa shared that he was extremely intelligent and argumentative, often debating with other about politics and going on long rants about "the government." That said, Figueroa admits that, when she last saw Loughner three or four months ago, he was a "different person" than the boy she dated as a teen.
See the video, from Fox News:
Have a tip we should know? tips@mediaite.com