Fox News' Jonathan Hoenig Calls Social Security A Ponzi Scheme, Network Runs Disclaimer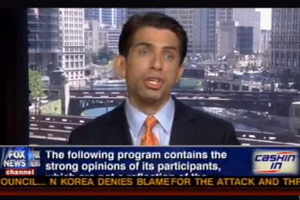 This morning on the business show The Cost of Freedom, guest Jonathan Hoenig argued that the Social Security program was "a Ponzi scheme." He didn't get too much support from the other guests, and as soon as he said it, Fox News ran a disclaimer that the opinions expressed on Fox News are not those of the network.
Hoenig, who was representing a website called "CapitalistPig.com," argued that private citizens go to jail for putting programs together like Social Security, and that reform was not enough– the administration must be abolished:
"Social Security is, by definition, a Ponzi scheme. It is Bernie Madoff on the largest scale. They lock you up for things like this. There is no savings, there is no investment, there is no ownership, there is no account with your name on it. They're just looting you today with the promise that they're going to loot future generations on your behalf."
And as he says this, a disclaimer scrolls on the bottom of the page stating: "The following program contains the strong opinions of its participants, which are not a reflection of the opinions of Fox News and should not be relied upon as investment advice when making personal investment decisions."– a standard on business programming. But the topic at hand wasn't exactly the stock market although it is a business program– it was quite a political conversation– and a quick look at Hoenig's previous appearances on The Cost of Freedom's "Cashin' In" segment, which he is regularly a guest on, doesn't seem to show any disclaimer. Maybe it usually plays earlier on in the show and someone tossed it up a bit late, or they just wanted to play it safe after a guest says something particularly shocking.
Hoenig didn't get much support on the panel initially, with Wayne Rogers quipping: "I don't think Jonathan is onto something; Jonathan is on something. He's smoking something that doesn't make any sense." He does get some agreement from the six-person panel later on in the debate.
Video from this morning's lively Cashin' In debate below:

Have a tip we should know? tips@mediaite.com