Fox's Kirsten Powers Chides Fmr. Bush Official's "Completely Irresponsible" Egypt Advice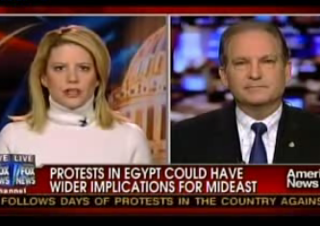 Hosni Mubarak's reign as the sovereign of Egypt is likely very close to over. That Mubarak himself, an American ally, appears to refute that, though, leaves the U.S. Department of State in rather a pickle, and keeping all sides happy is a balancing act. Some, like former George W. Bush deputy Brad Blakeman says it's time to go all in with the Egyptian protestors, but Fox News contributor Kirsten Powers is refuses to think the problem is that simple to solve.
Powers began her side of the debate on Fox News earlier today by noting that she found the initial reaction to the revolution, particularly from Vice President Joe Biden and Secretary of State Hillary Clinton, to be "off-base," but that the President's statements later on smoothed out the process and walked the fine line diplomacy requires appropriately. Blakeman adamantly disagreed, arguing that this was a perfect opportunity to stand with the Egyptian people and oppose Mubarak. "Mubarak's time is over. He is never going to be able to rule the way he did a week ago," he argued. To that end, he suggested openly opposing Mubarak's stay as president.
After so many years backing his administration, however, Powers found that solution to be "completely irresponsible," noting that it would do nothing to keep allies like Israel safe to take such black and white stances and that, given the long-term history the United States has with Mubarak, doing a 180º now would be sloppy diplomacy.
"All good things come to an end," insisted Blakeman, adding that he found the fact that the President had not discussed conversations with world leaders other than Mubarak to be inadequate in "engag[ing] the international community." "That's not how diplomacy works!" Powers interjected, adding "you don't just come out and shoot off your mouth about every single thing that you've done." Finally, to prove her point, she posed to Blakeman a riddle: "Who is going to take over for Mubarak," in the case the U.S. completely backs off? Blakeman, off the top of his head, could not provide a sufficient answer for a leader that America could support in Mubarak's stead that would lead to the level of stability he claimed was possible otherwise.
The lively debate via Fox News below:

Have a tip we should know? tips@mediaite.com