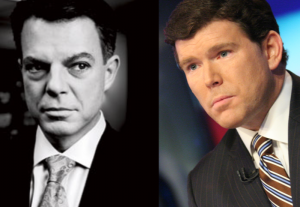 Fox News has built its impressive ratings power on over-the-top talkers like Bill O'Reilly and Glenn Beck, but the most recent ratings data for the network reveals a surprising trend: Fox News anchors like Shepard Smith and Bret Baier building huge ratings without chalkboards or loud debates, just news.
For the month of February, Fox News Channel had the five top rated programs in cable news, and as you'd expect, Bill O'Reilly was number one with an average total audience of 3,194,000 viewers. But the second highest rated show in all of cable news was Special Report with Bret Baier with 2,204,000. Hannity and Beck follow in third and fourth place, with Fox's Shepard Smith in fifth, with just under two million viewers. The same shows take the top five slots among viewers 25-54, with Smith jumping into third place and Baier in fifth.

Smith, whose passionate coverage of issues has clearly struck a chord with viewers, and Baier, whose ratings successes recently earned him a long-term contract extension, have steered clear of criticism Fox News regularly gets for politicized coverage. The news anchors, along with fellow rising news star Megyn Kelly, offer Fox a convenient meme for pushing back against accusations of bias: our hosts do politics, our anchors do news. And as the Nielsen ratings show, they both attract a crowd.
Have a tip we should know? tips@mediaite.com