Fox News Launches Documentary Series Called 'Scandalous': First Season to Focus on Clintons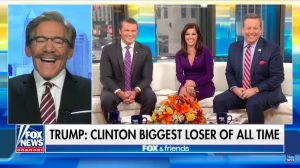 While they may no longer hold political office, former President Bill Clinton and former Secretary of State Hillary Clinton are still a hot topic at Fox News.
The network announced a new documentary series on Tuesday, called Scandalous. The show's first seven episodes will feature the events that resulted in the former president's impeachment in 1998.
Part one will begin Jan. 21, and it will air for seven weeks in the 8 p.m. time slot. Actor Bruce McGill will narrate the hourlong episodes for the docu-series.
"Beginning with the failed 1980s Whitewater land deal in the Ozark mountains of Arkansas, and ending with the final determination made by prosecutor Robert Ray on the president's last day in office, the series will revisit the daily twists and turns of the investigation exactly 20 years after Monica Lewinsky was revealed and first captivated the world," Fox News Channel said in their announcement.
Among the talking heads for the series who became household names with the investigation: former Independent Counsels Kenneth Starr, Robert Fiske Jr. and Robert Ray; former members of the Office of Independent Counsel Bob Bittman, Sol Wisenberg, Julie Myers Wood and Stephen Bates; senators Joe Lieberman and Lindsey Graham; Susan McDougal, and Linda Tripp, who secretly recorded her conversations with Monica Lewinsky about the latter's relationship with Clinton.
Scandalous will open with the Clinton saga, but other events are set to get a similar treatment.
Have a tip we should know? tips@mediaite.com