Fox News Leads All Basic Cable In October Ratings While CNN Tops Cable News In 25-54 Demo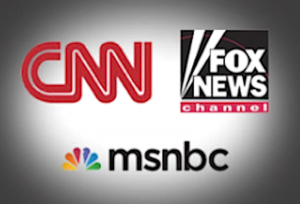 October's ratings are in and the heavily followed election season has led to big wins across the cable news spectrum.
For Fox News, the network led all basic cable network in viewership for the month, leading the way in both total day and primetime, marking the fifth time this year it has done so. In total day (Monday-Friday), Fox News' audience was 1.67 million, which was nearly double of CNN (1.03 million) and MSNBC (999,000).
As far as M-F primetime, Fox News averaged 3.4 million viewers for the month while CNN tallied 1.99 million and MSNBC pulled in 2.03 million. As far as total day, including weekends, it was a little closer, with Fox bringing in 1.55 million, CNN averaging 1.02 million and MSNBC coming in third at 886,000. When looking at Monday-Sunday primetime, Fox led with 3.06 million, followed by CNN (1.91 million) and MSNBC (1.69 million).
CNN, meanwhile, was able to declare victories in the key 25-54 demographic. In weekday total day, CNN and Fox News were neck-and-neck, with CNN barely finishing just 6K behind Fox News at 342,000. Same goes for weekday primetime, where CNN was only 5,000 behind Fox News' total of 737,000.
However, when including weekends, CNN pulled ahead in the demo, averaging 334,000 in total day and 704,000 in primetime. Fox News placed second in both metrics.
Regarding gains from last year at the same time, MSNBC was definitely the big winner there. Across all metrics, MSNBC saw triple-digit increases in viewership. Specifically, in Monday-Sunday primetime, MSNBC was up 168% in total viewers and an amazing 261% in the 25-54 demo.
Ratings for the business news channels also came in, and for the first time ever, Fox Business beat CNBC for an entire month in business day viewership. In October, FBN drew an average of 170,000 business day viewers, showing a 67% increase from this time last year.
[image via Fox News/CNN]
–
Follow Justin Baragona on Twitter: @justinbaragona
Have a tip we should know? tips@mediaite.com