Fox Newser Calls Out Nancy Grace: Should Not Make Millions Trying To Convict People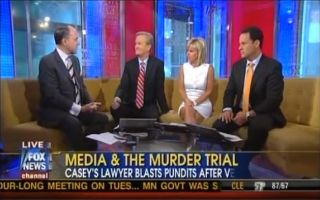 Hoo boy. Today on Fox and Friends, the gang discussed how Casey Anthony's attorney Cheney Mason "blasted" the media for its criticism of Anthony, bringing on Fox News legal analyst Peter Johnson, Jr. to weigh in.
"Peter, media assassination, incompetent people on TV… Is he talking about Nancy Grace?" asked host Steve Doocy, casually wearing a hat made of T-bone steaks whilst pacing before a panther.
"Yeah, I think he's talking about 'the revenge host,'" answered Johnson, before adding "I guess she's known as Miss Grace." Grace's brand of reporting, he opined, has no place in society:
People should not make millions of dollars out of trying to convict people, whether they're innocent or whether they're not innocent. That's inappropriate. But it was a sequestered jury; the jury decided on their own, aside from any media pressure that there may have been. They looked at the evidence, they came to a determination, and it's my view that it's not up to a legal pundit like me or anybody else on any network to decide this verdict. This verdict was decided by twelve people in that state and, as Americans, we live by the rule of law. We don't live by opinion trial, opinion polls in criminal trials. We don't live by emotion, we don't live by what we believed in watching an hour and a half of it on the Fox News Channel. We live by what the jury determination is and if we erode that — as much as we hate a verdict — then we erode what we talk about every day . And people get up on this station and others to talk about the Constitution and how important it is. This is the living Constitution. Sometimes the Constitution hurts. Maybe it hurts today. But this is the best system in the world.
Watch the segment for yourselves, via Fox News:
Have a tip we should know? [email protected]