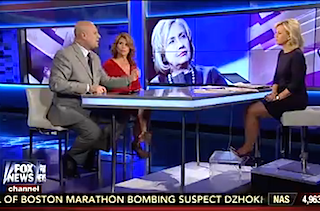 In the less than two days since The New York Times broke its story about Hillary Clinton relying exclusively on a personal email address while serving as secretary of state, there has been much debate over whether she actually violated federal law. But according to both legal analysts who appeared on Fox News' The Real Story with Gretchen Carlson Wednesday afternoon, Clinton is in the clear.
"I'm going to say no, because at the time she did what she did when she used her own personal email, the law was very nebulous," former prosecutor Jonna Spilbor said in response to Carlson's question about Clinton breaking the law. "It didn't say you couldn't use your own email, it said any government use of email had to be preserved. So what did she violate?" she asked. As long as Clinton can still retrieve the emails in question, Spilbor said, "There's no law broken."
Carlson's other guest, Arthur Aidala agreed, saying there may be ways to tell if Clinton is deliberately trying to hide communications. "Was there a crime?" he said. "You can't be convicted of a crime that didn't exist at the time that you committed it."
On Tuesday, a spokesperson for former secretary of state Colin Powell revealed that he too primarily used a personal email address during his tenure under Bush. Both his and Clinton's time in the State Department predated changes to federal law that required officials to use government accounts for official communications, according to a report from The Wall Street Journal.
Today, the House Select Committee on Benghazi announced that it will issue a subpoena to obtain all of Hillary Clinton's personal emails that may pertain to the 2012 attack on the U.S. consulate there.
Watch video below, via Fox News:
[Photo via screengrab]
— —
>> Follow Matt Wilstein (@TheMattWilstein) on Twitter
Have a tip we should know? tips@mediaite.com