Megyn Kelly Incorrectly Reports That 'The White House' Launched AttackWatch Website (Update)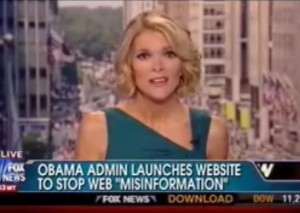 In teasing an upcoming America Live segment Wednesday, Fox News' Megyn Kelly said that "the White House" launched a new website called Attack Watch, and a graphic reading "Obama Admin Launches Website to stop web 'misinformation'" displayed throughout the segment. Love it or hate it, the Attack Watch website was launched by Obama For America, and the White House has nothing to do with it. If only there was some way to report this kind of misinformation…

On Wednesday, we reported that the Obama campaign launched a less-kinder, less-gentler version of its 2008 "Fight the Smears" website called AttackWatch. This prompted a flurry of combined mockery and hysteria from conservatives online, and "significant interest from supporters" who signed up in droves, according to the Obama campaign.
Fox's America Live, which is on the hard news side of the network's opinion/news partition, featured a debate segment on the site, and repeatedly made the false claim that the "White House" and the "Obama Administration" were responsible for the launch of the site.
Kelly cited the "White House" as the responsible party during her segment tease, then, when setting up the segment, said the Attack Watch site was "launched by the President's reelection campaign," but as a graphic stating "Obama Admin Launches Website to stop web 'misinformation'" appears onscreen, Kelly then quotes "the White House" again.
The debate segment itself also relies on this false premise, as conservative Chris Plante states, uncorrected, that the site asks people to "report to the government on their neighbors about political speech that they deem offensive," and compares it to the East German Stasi.
Democratic strategist Chris Hahn doesn't catch it either, but counters by describing the site as "rapid response for a new generation."
Kelly does interrupt the segment to clarify something her conservative guest said, but it was not about the Obama administration. She reads an email from James Rosen in defense of Richard Nixon. "You guys tried to smear Richard Nixon," Kelly exclaims, "and James Rosen caught you on it!"
It's hard to deny that Attack Watch's graphics are designed to make conservatives pee their pants a little (and it's predictably having the same effect on some liberals), and Plante is certainly entitled to his opinion that the "black and red page" is "creepy," but neither he, nor Fox News, are entitled to their own facts.
Perhaps this episode can be the first item when the campaign launches a website to counter attacks on AttackWatch. They can call it AttackWatch.com-attack watch. Dot com.
Update: After we posted this story, Kelly offered the following clarification on-air:
"Wanted to offer this quick clarification on a story we did two days ago about the web site attack watch. A new web site launched by President Obama's reelect campaign It's intended to be a place for supporters to report attacks on president Obama's record. Conservatives have attacked it as big brother, and a big brother approach to tracking political enemies. At one point in our Wednesday report we said the administration launched this. It was not the administration. it was produced by the president's reelection team."
It's worth pointing out, however that much of the entire segment was pegged to the issue of the administration supporting AttackWatch, and not something that was simply misreported "at one point."
Here's the clip, from Fox News:
Have a tip we should know? tips@mediaite.com