Fox News Mole Tells Howard Kurtz He Wanted To Leave But Got 'Blackballed' At Other Networks
Fox News Mole Says He Wanted To Leave But Got 'Blackballed' At Other Networks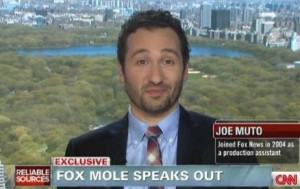 Joe Muto, the "Fox News Mole," sat down for an appearance with Howard Kurtz that aired on CNN's Reliable Sources today to recount his tales of working at Fox and explain why he went rogue. Kurtz confronted Muto on why he stayed with the network for so long if he could not stand to work there, and what kind of financial arrangements he had worked out with Gawker, the site that Muto was posting as the mole on.
RELATED: Fox News Lawyers' Letter To Gawker Mole: Your Admissions Are Likely Of 'Criminal And Civil Wrongdoing'
Muto admitted that he "broke the code" by betraying the trust of his peers at Fox News by attempting to leak information to the public through another news source. Kurtz brought up the report that Gawker paid Muto $5000 for his work, but Muto refused to comment on his financial arrangements "that [he] may or may not have had with Gawker." He described his actions as a "primal scream" coming with someone who had enough with Fox News and needed to share his knowledge with the world.
At the outset, Muto seemed very confident about his mission, but as time went on he began to realize that he was not very good at keeping his identity hidden, which is how Fox was able to track him down and fire him so quickly. His first post on Gawker popped up at 3:11 last Tuesday and he was identified by Fox around noon the next day. Kurtz noted that Fox is currently considering taking legal action against Muto, which he dismissed as "completely baseless." Then Kurtz went down the list of tidbits that Muto made public on Gawker, including the less-than-pleasant work environment and a video clip of Sean Hannity palling around with Mitt Romney before an interview. He told Muto that the information he was providing "didn't seem to amount to all that much."
Muto said his original plan was to leak out information in bits and pieces, but chose not to give any indication as to what his upcoming features on Gawker will be. Kurtz asked Muto why it was only now that he started to stand up to his now-former employer.
"If you felt so uncomfortable with your situation at Fox News, why stay there and draw a paycheck for eight years?"
Muto explained that he tried to leave earlier, and sent out his resumé to a lot of other news organizations, including CNN, but he realized that Fox's name on his resumé was a deterrent for other prospective employers.
"The truth of the matter is, I was blackballed within the industry, that people… hiring managers see Fox News on your resumé and say, 'This guy's a conservative. This guy's a nut. We don't want him in our organization.' I was completely blackballed within the cable news industry."
However, the current president of CBS News, David Rhodes, previously worked at Fox News for over 10 years and eventually rose to become the network's Vice President of News. And fellow CBS News employee Tim Gaughan previously worked at Fox News for 12 years and Bloomberg News in between the two. Also, Rick DiBella left Fox News after 10 years and went to CNN – He's now the Executive Producer of their Sunday shows, including Reliable Sources. These few examples call into question Muto's claim of being 'blackballed' because he worked at Fox News.
Muto admitted that he didn't feel very comfortable with all the "right-wing bias at Fox" and "the way they're slanting the news." He said that when he was at Fox News for the 2004 and 2008 presidential elections, the network went after John Kerry and Barack Obama with much more force than the other candidates. Muto broadened this criticism out to the whole network, including Fox News' anchors who are not supposed to be in the business of promoting an opinion or agenda.
Muto accused the opinion website Fox Nation of being a "vile, race-baiting site" that should not be connected to a mainstream news organization. Kurtz rebutted that point by saying every news website has a few bad eggs in the comments section (hi, guys!), but Muto argued that Fox Nation deliberately tries to "stir up" some of the unpleasant sentiments seen in the comments. He insisted that it is more connected to Fox News than Kurtz seemed to think it was.
However, in spite of everything he's said about the network, Muto said he worked with some decent people within Fox News. Kurtz ended by asking Muto if he thought he would be able to find another job in cable news again. Muto joked that no one short of Current TV would want him at this point.
Watch the video below, courtesy of CNN:
Have a tip we should know? tips@mediaite.com
Josh Feldman - Senior Editor