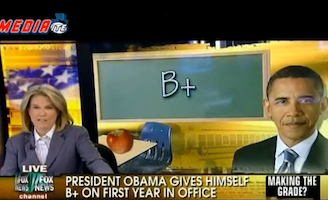 When Obama gave himself a "solid" grade of B+ in a recent interview with Oprah, it was only a matter of time — less than a day, to be precise — before the cable news punditocracy chimed in. As you can imagine, the Fox News faction, represented by Greta Van Susteren, Dana Perino, and Bill O'Reilly, did not take too kindly to it.
The president giving himself a grade is the sort of opportunity cabledom dreams of: it's 'newsworthy' but totally subjective, and provides a hook for hanging on any sort of argument, talking point, or roundtable debate one wishes.
On On the Record, Van Susteren and Perino took the popular 'bludgeon Obama for all his failings' route. A preview of the clip below: B+ is a darn fine grade, and if my kid got a B+ in calculus I'd be proud; Obama was disrespectful to Bush; Obama was arrogant for analogizing himself to FDR in his Oprah interview ("I think we have inherited the biggest set of challenges of any president since Franklin Delano Roosevelt").
O'Reilly was still critical, but a little more nuanced. He hammered Obama on public approval ratings and confidence polls. But he had the edge of having rolled out his own set of grades for Obama on GMA the previous week, which he made a focus of his discussion: B on jobs, C on Afghanistan, D on health care — a C average, if they're all equally weighted, but not as brutal a pile-on as it could have been.
Have a tip we should know? tips@mediaite.com